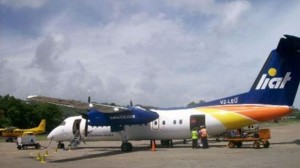 ST JOHN'S, Antigua – Nearly 200 employees of the Caribbean airline, LIAT, could get the axe if proposed job cuts aimed at improving the airline's financial stability are realised.
OBSERVER media understands the regional carrier is looking to retrench about 185 of its staff who are stationed in every country in which it operates.
OBSERVER media was reliably informed the company has presented several options to reduce the number of persons it employs. These measures include early retirement, voluntary severance, normal retirement, temporary layoffs, and termination.
Based on the proposals, the commercial, customer experience, and cargo divisions would be the departments mostly affected, with a 21 per cent reduction in personnel. The proposed cuts will trim the number of employees in those departments from 283 to 225 individuals.
LIAT is also considering letting go 51 workers in flight operations, reducing that department by about 20 per cent as well.
The engineering department is also projected to lose 50 workers, while 26 individuals are expected to be made redundant in finance, human resource, and administration.
OBSERVER media has also been informed that the cargo operation will be closed because it is too costly to operate.
However, LIAT plans to re-open the cargo operation some time in the distant future.
The airline's CEO David Evans had announced earlier that the company will be reviewing its operational costs and there was no guarantee that employees would not lose their jobs during the exercise.
The regional carrier's corporate communications specialist, Desmond Brown, declined comment on the matter.