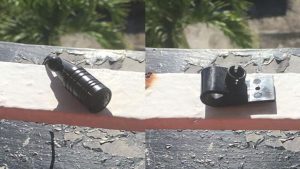 Freedom Fm Newsdesk has confirmed that an unauthorized recording device was found, this morning (Dec. 11) in a vehicle owned by Opposition MP and Parliamentary Representative for St. Christopher 2, Hon. Marcella Liburd.
Leader of Liburd's St. Kitts-Nevis Labour Party, Rt. Hon. Dr. Denzil Douglas spoke briefly with THG News. He said, "This desperation is now being taken to a new criminal level.
It is now discovered that they broke in to Marcella Liburd's home to install recording devices to invade the honorable lady's privacy. Similarly, only today a microphone and a recording device was discovered planted in the vehicle of the said Marcella Liburd.
We will keep you updated.