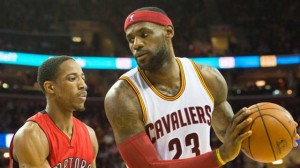 CLEVELAND — LeBron James has a blunt assessment for where the Cavaliers stand after 12 games.
"We're a very fragile team right now, we were a fragile team from the beginning," James said after Cleveland squandered an early 18-point lead and lost 110-93 to the Toronto Raptors on Saturday for its fourth straight loss. "Any little adversity hits us, we just shell up."
The Cavaliers, considered the league's best team when the season began, have been hit with plenty of adversity. Cleveland is 5-7 and there is already talk of the team playing in the dark and the players having bad body language. The Cavaliers have a day off to think about their issues before hosting Orlando on Monday.
Despite the problems, James is convinced better days are ahead.
"I'm very optimistic," he said. "I'm very positive, more positive than I thought I'd be right now. We'll look at what we did wrong, the things we did right and be ready (for Monday). It's still too early for me. … I can't be negative at all. Once I crack, it trickles down to everybody else, I would never do that to these guys."
Lou Williams scored a career-high 36 points for Toronto, which has won four in a row and is off to its best start in franchise history at 11-2. The Raptors trailed 26-8 less than four minutes into the game before showing why they have the best record in the Eastern Conference.
Toronto led 56-54 at halftime and took control midway in the third quarter. The Raptors were up by as many as 19 points in the fourth.
"We knew that train would come out roaring, but we slowed them down in the second quarter," Toronto coach Dwane Casey said. "Our guys were strong enough to withstand their onslaught."
Kevin Love scored 23 points and Kyrie Irving had 21 to lead Cleveland. James, who spent the final 6:20 on the bench, finished with 15 points, 10 assists and one rebound.
In the game's final minutes, the loudest noise at Quicken Loans Arena came from several hundred fans who made the trip from Toronto and chanted, "Let's go Raptors."
Kyle Lowry scored 23 points while DeMar DeRozan added 20 for Toronto, which led by 52 points in Friday's 124-82 win over Milwaukee.
The Cavaliers scored the game's first 12 points and raced to a 19-5 lead, forcing the Raptors to call timeout twice in the first six minutes. The margin reached 18 before Toronto began to cut into the lead, thanks mostly to Williams scoring 10 points in the quarter.
Williams' 3-pointer at the second-quarter buzzer out Toronto up by two. Cleveland led 65-61 with 7 minutes remaining in the third, but DeRozan scored eight points, including a 3, while Lowry and Williams also hit 3s to help Toronto build a commanding lead.
Toronto held a 51-19 advantage in bench scoring.