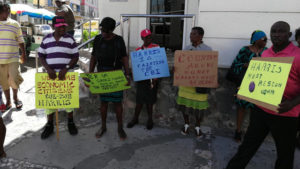 SKNLP supporters along with nationals of SKN on Wednesday morning took a further step o demand the PM of SKN Dr Timothy Harris resign in the face of an international bribery scandal, in which property tycoon Peter Singh Virdee has been accused of bribing high ranking Caribbean politicians. This following secretly taped telephone calls which emerged in a High Court Judgment on Friday which apparently implicate high ranking government officials from Antigua & St Kitts.
These revelations in the London High Court have resulted in the resignation of Antigua & Barbuda's Investment Minister Asot Michael on Tuesday.
Meanwhile in St Kitts on Wednesday a small gathering of SKNLP supporters are calling for PM Harris to resign as the investigation goes forward. Leader of the SKNLP Dr Denzil Douglas made the call at a press conference on Monday, and on Wednesday his supporters took to the streets of Basseterre in a demonstration calling for the resignation of PM Harris. Freedom Fm was live and spoke to former PRO for Dr Denzil Douglas, Erasmus Williams. Williams called for citizens of St Kitts Nevis to support the call for the removal of Dr Harris from office on the basis of the serious charges of corruption leveled at the Prime Minister. Freedom also spoke to several of the placard bearing demonstrators.
Meanwhile Queen's Counsel Charles Wilkin in a media statement issued Tuesday calling for full disclosure on the matter. Wilkin said "we will no doubt hear further, if and when Virdee is tried on charges of bribery. We will then hear what other evidence if any that the UK police have in this matter. Until then, we have to allow the PM the presumption of innocence, but his blanket denial is not sufficient. Whether Virdee lied or not his allegations create potentially adverse implication for the name of our country".
Wilkin added the recent passage of the Freedom of Information Act "is the perfect situation for the PM Harris to put the Act voluntarily into effect if he wants to clear his name".