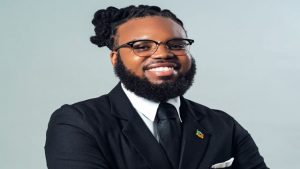 Mr. Kiandre Weekes, a remarkable young man who embarked on a journey that took him from selling cupcakes to funding his university education, has reached the pinnacle of academic achievement by becoming the Valedictorian at the University of the West Indies, Cave Hill Campus, Barbados.
Impressed by his level of commitment to academic advancement, Prime Minister and Parliamentary Representative for Constituency #8, Hon. Dr. Terrance Drew extended a scholarship offer to Mr. Weekes, his constituent and resident of Cayon.
"He has done extremely well to be named valedictorian. For our talented young people, we should create avenues to propel them. Certainly, this extremely high level of performance must be recognized by the Government," said Prime Minister Drew.
He added, "The scholarship will empower him to reach his full potential and propel him even further. He would be a great asset to nation-building. Congratulations to both his family and the Cayon community for nurturing such an exceptional young talent. Cayon has consistently produced remarkable high achievers."
Mr. Weekes expressed his deep gratitude for the scholarship offer made by Prime Minister Hon. Dr. Terrance Drew to attend the Norman Manley Law School. The scholarship will alleviate his financial worries and allow him to pursue his dream without delay.
His incredible story is an inspiring example of determination, resilience, and dedication.
Kiandre Weekes' journey into the legal profession began at a very young age when he declared his dream of becoming a Judge. He pursued this passion throughout his primary and secondary education, aligning his subject choices with his ambitions. However, financial constraints during his university years posed a significant challenge.
"While there was uncertainty about funding this chapter of my journey, one thing was certain, I wanted to be a Judge. Being a part of the legal profession remained my dream. This was the driving force behind my attempts to find ways to fund this dream and make it a reality" he stated.
Undeterred, Kiandre founded "Krowned Cupcakes," a venture that allowed him to monetize his passion for baking and generate funds to cover the expenses his student loan did not.
Raised by a single mother, Kiandre's strong work ethic and values were deeply influenced by his mother's dedication and sacrifices. He was determined to make his mother proud and create a positive outcome from the challenges they faced.
"My mind always carried the thought that whatever I did I had to make her proud. It had to create such a proud moment that it would, if possible, eradicate any shame caused by her decision to mother a child at such a young age. I saw her love for me demonstrated throughout my entire life and I knew it must be my mission to create a positive outcome from a situation that people viewed negatively", stated Mr. Weekes.
Kiandre faced numerous challenges during his academic pursuit, including balancing a demanding job with his studies, adapting to online learning, and overcoming his own pursuit of perfection. He credits his success to his meticulous time management, prioritizing self-care, and understanding his own productive hours.
Mentorship and support played a pivotal role in Kiandre's educational and personal development. He received invaluable guidance from lawyers, senior students, and his extended family.
"No man is an island" is not a cliche, it is a fact. As such, external support is vital. I say this because everyone at some point in their journey, will feel like giving up but the little encouraging words from someone journeying with you keep you driven", he stated.
Kiandre Weekes also emphasized the importance of choosing a supportive network of friends and maintaining connections with institutions and organizations that provide assistance when needed.
"There were friends who stayed on the phone to ensure that I would not fall asleep while completing assignments and reminded me that I was their inspiration. Finally, there were some institutions/organizations that assisted me when I was in need. These include Anthony and Joy Bland who granted me financial aid via their scholarship during my second year of UWI; Hendrickson's Legal Chambers who were always ready to assist and the Attorneys in Kelsick, Wilkin, and Ferdinand, just to name a few" he said.
As a Law Graduate, Mr. Weekes is passionate about areas such as Constitutional Law, Real Property, Family Law, Employment Law, and Legislative Drafting. He hopes to make a positive impact in the legal field by offering sound advice, contributing to legislative changes, and serving his country.
His advice to young individuals facing similar financial and personal challenges in pursuit of higher education is to be fearless in the pursuit of their dreams. He encourages them to make sacrifices, manage their time wisely, prioritize self-care, and seek support from mentors and a supportive network.
Kiandre cherished the memorable experiences and life lessons gained during his time at the University of the West Indies, Cave Hill Campus, especially the camaraderie among diverse students and his involvement in university politics.
Looking ahead, Kiandre aspires to become one of the region's most outstanding Attorney-at-Law and, ultimately, a Judge in the Eastern Caribbean Supreme Court. He aims to continue making a difference in his community and beyond by imparting knowledge, offering support, and contributing to legislative changes.