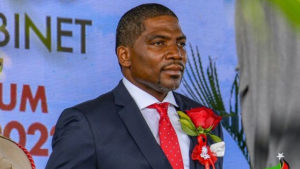 The Honourable Dr. Terrance M. Drew, Prime Minister of St. Kitts and Nevis, is set to be the distinguished Guest Speaker at the upcoming St. Kitts and Nevis Association of Toronto (SKNAT) Pre-Independence Event, an occasion dedicated to celebrating Saint Kitts and Nevis' 40th Anniversary of Independence. This event promises an afternoon of inspiration, entertainment, and community spirit.
The event is slated for Sunday, September 10, 2023, at the Venu Event Space, 2800 Hwy 7, Woodbridge, Ontario at 2:00 p.m.
The celebration will also be enriched by the presence of St. Kitts and Nevis' beloved recording artist, Mr. Kervin Benjamin, Ambassador to the Ministry of Creative Economy and Sports, popularly known as "Infamus," who will grace the stage with his musical talents, adding a vibrant and culturally significant dimension to the festivities.
The Prime Minister's delegation also includes the Permanent Secretary in the Prime Minister's Office, Mr. Glenroy Blanchette, and Senior Foreign Affairs Officer, Mr. Samuel Berridge.
The event will also feature a range of entertainment options, with exciting prizes to be won, adding to the celebratory atmosphere.
This event serves as a platform for the Saint Kitts and Nevis diaspora in Toronto to come together, socialize, and honor the rich history and achievements of their homeland as the country reaches this significant milestone.