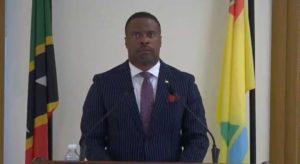 Premier of Nevis the Honorable Mark Brantley made an empathic and pellucid response to his bid to be Prime Minister of St Kitts-Nevis. Brantley said while in opposition, many were afraid to fight the fight, he stood up and fought an impossible fight from the trenches.
Brantley said there is nothing wrong with anyone aspiring to be Prime Minister and that this tenure was to get the best possible deal for Nevis, getting them fully integrates as citizens of St Kitts-Nevis.
Brantley pointed out that neither Prime Minister Harris, former Prime Ministers Douglas and Dr Sir Kennedy Simmonds would not have become Prime Ministers if they were not ambitious. He further stated that there were those who consistently frowned on Nevisians for aspiring to that high office. He stated that time and that kind of thinking was over.