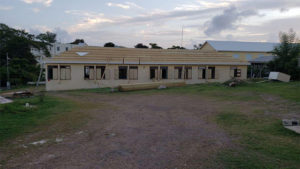 Premier Mark Brantley has apologized to students, staff and parents of the two schools that have yet to open for the start of the new school year due to renovation delays.
The Ivor Walters Primary and forms 1 to 3 of the Charlestown Secondary schools are now scheduled to open on Monday. The Premier said the delay is unacceptable but was unavoidable.
"I want to start with an apology, because it's no secrete that we've had some delays at the CHS and Ivor Walters Primary and some disruption to parents and students and teachers at those two schools. This Cabinet met some months ago and decided that we would on the recommendation of the responsible Minister Troy Liburd we would undertake certain works at the various schools. The contractors were selected and and set out to work as early as we could mobilize them; many of them would have been on the job by mid-July in order to get this work done.
"The difficulty is that perhaps being an ambitious government we bit off more than we could chew in relation to at least those two projects. I want the public to understand that the delays that have been experienced have been unavoidable, that work being done was in a genuine effort to improve the physical infrastructure for our parents, teachers and students.
"And I don't think that this is being political in any way. We all know that the schools have been neglected over many many years and I'm very proud of the record of this government in its effort to improve the physical plant and to live up to the expectation that we have that our schools be child friendly. As a consequence, we have been spending, investing and we've been seeking to do the best that we can."
Dr. Kelvin Daley, the newly announced candidate for the opposition Nevis Reformation Party, lashed the NIA for the late start of school for those students, saying it is indicative of the government's incompetence in the area of education.
"This is how the majority of the students on Nevis started their school term. My daughter is freshman in Charlestown Secondary and this is what she faced Monday morning- no toilets. You can run a school with no books or no chalk, you can't run it without toilets. When you have 300 little girls who want to to [urinate] you can't tell them to go behind the tree like the gentleman told me at Oualie pier.
"This should not have happened. I'm disgusted to hear people say it happened under NRP too; and I've put out the challenge and say show me anywhere between 2006 and 2013 any school that was ever late in opening. It wasn't that we didn't have any construction- we had; but we were diligent enough to make sure as school closed 'bap', construction started, but we weren't dilly-dallying with all kind of political supporters doing the construction, we had real contractors doing the work, so when school was re-opened the contractor could have handed over the key to the Minister of Education- see your building there.
"That never happened at Ivor Walters Primary, they started the work late and as hard as they pushed they could have never finished the work on time. Roofers are still on the roof, the classes are a mess, the kitchen is an abomination, the grounds are festooned with all kinda things. Parents brought their children there and turned right back and say there's no way I'm going to leave my little one there. When enough parents did that the notice came out- take all of your children out of the school and don't come back until we tell you."
Premier Brantley however says renovating schools is in keeping with the NIA's mandate to provide child friendly facilities and the government has spent over 10 million dollars in school repairs on the island over the past 4 years.
"Over the last few years we have spent a global sum from 2015 until now of $10, 782,491. For 2019 we have allocated $1.8 million thus far. All of this is your money that the government has decided to spend on seeking to improve the schools on the island of Nevis. This year was no different; we understand that the summer is a narrow window of time and so we tried to do as much as we can, recognizing that sometimes there will be delays I nevertheless apologize because I think that any inconvenience to our students and teachers is unacceptable and I've let the Minister and his team know that I was unhappy that there was a delay, but at the same time all of us who are reasonable recognize that sometimes in doing construction we encounter unexpected problems and difficulties."