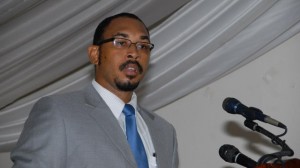 Special guest on Freedom Fm's popular talk show "Issues" on Thursday afternoon was the Peoples Action Movement Deputy Leader and Team Unity candidate for Constituency #2 Mr Jonel Powell.
Mr Powell addressed a myriad of current hot topic in St Kitts and Nevis. In a passionate plea to persons who participate in crime, the young lawyer asked the men both young and old to rethink their actions. Mr Powell said that while he thinks it is unfair to blame any one person for the recent surge in crime in the federation he feels that the government can combat crime by creating other avenues for the youth.
In regard to the economy Mr Powell is of the view that while the numbers are looking attractive at present the government is operating on a false economy. He warned the listeners that we may be on the edge of a cliff.