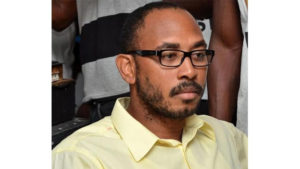 The proposed 6-month residency requirement for voter registration remains one of the hot topics heading into the next general election, a topic that has generated much debate in and out of the federation.
PAM candidate and party chairman Jonel Powell was a guest on Freedom FM's talk show Issues Thursday and reiterated his party's support for such a change in the electoral laws. He is of the view that nationals living overseas who visit St. Kitts and Nevis is occasionally should not decide who is elected to parliament to represent the various constituencies, and who should form the government.
"You vote for representatives of a particular constituency to represent persons living in a particular constituency. The person who lives in London, works in London full time, their children go to school there, they pay their taxes and they get all the benefits from the UK health system, when they come to St. Kitts they come on vacation. So our support for the proposed residency requirement comes out of that. There's no way without fundamentally changing the entire system for us to have a system which completely caters to somebody that does not live in St. Kitts and Nevis.
"I don't think anybody denies the fact that our electoral system needs to be revamped, needs an overhaul, I think that's agreed by all political parties. But on this particular issue unless we're going to completely change the whole make up of our electoral system, it is our belief as a party that persons living in St. Kitts and Nevis should be the ones who determine who should representatives are and who their government should be."
He also responded to claims that the government is rushing to have the proposed legislation passed before the impending election. Powell also claims that if the majority of the people are not in favor of the residency requirement the government would not continue to pursue it.
"There is no rush to push it through parliament. The government side has said from the beginning, they had a first reading and left it there for the purposes of generating discussion, which it has done. They've always said that look, if it is that the majority of opinions that are shared during consultations are that 'we don't want this, we prefer the system as the status quo' then fine, they would not proceed with it. If it is that people generally prefer that they want the residency requirement in place or they want it in a different form- some might want 3 months rather than 6 months or they want 12 months- that was the whole purpose of it, generate discussion to see what the people really want. The People's Action Movement has made it clear before the last election so this is nothing of convenience, it's nothing new; but until something changes we work within the system."