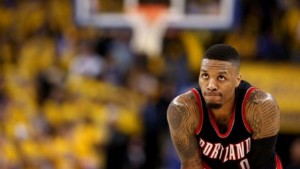 OAKLAND, Calif. — C.J. McCollum has learned a harsh reality during the NBA postseason."There's no consolation in the playoffs," the Portland Trail Blazers' guard said after a gut-wrenching 110-99 Game 2 loss to the Golden State Warriors. "You either win or you lose. It doesn't matter what the score is. It doesn't matter how hard you competed."The Trail Blazers didn't trail in Tuesday night's game until the 43rd minute, and before that, they hadn't sustained any prolonged stretch when they couldn't find a good look at the basket. For more than three quarters, they executed a viable plan to beat the defending champs at Oracle Arena.
They stretched the Warriors in transition to create open shots for McCollum and Damian Lillard. Al-Farouq Aminu and Mason Plumlee thrived as playmakers when guards were harassed up high. The defense played bigger than it was, as coach Terry Stotts redistributed his length around the floor to better leverage matchups. The Trail Blazers also picked up some nice loose change at the margins, such as the Gerald Henderson-Ed Davis pick-and-roll combo near the end of the first quarter that yielded a couple of buckets, as well as a couple of putbacks from Mo Harkless."We played how we talked about wanting to play on film," Lillard said. "We played hungry. We played physical. We did it together. We were not fun to play against tonight, defensively or offensively. It wasn't easy what we went out there and did."
The most vital point of that plan was Lillard himself, doing unspeakable things to the Warriors' vaunted defense. The flare screens, pin-downs, dream weaves and rotating pick-and-rolls Portland unfurls all are important off-speed pitches in the Trail Blazers' repertoire. But the Lillard fastball, humming as it was in the third quarter when he dropped 17 points (including 4-for-5 from 3-point distance), is the killer. He finished the night with 25 points. On Tuesday morning at the Trail Blazers' shootaround, Lillard wouldn't reveal his remedy for fighting off the chest cold he'd contracted the day before Sunday's opener. Whatever it was proved effective, and there are simply precious few scenarios whereby Portland knocks off Golden State in 48 minutes without Lillard's elixir. Damian Lillard scored 25 points, including six 3-pointers, in Game 2. Ezra Shaw/Getty Images But as Lillard noted afterward, Golden State is "a different monster." They are uniquely able to adapt to game conditions. For a team that has fashioned a new kind of small-ball, the Warriors have some awfully big men who can disrupt the dynamics of a basketball game. Enter Festus Ezeli, who didn't play in the first half but whose presence around the rim mucked up the Portland attack. With Ezeli on the back line and a mobile defender in the pick-and-roll, the Warriors ratcheted up their focus on Lillard.
"I mean, you've got to give credit to Festus just for being prepared," Lillard said. "He hasn't been out there for pretty much the entire game, and then we were taking advantage of them and taking coverages with the big men back and starting to take shots. And they put him in and had him come up higher because he can move." On the flip side, poor Mason Plumlee. He has functioned as Portland's Draymond Green — a big, agile playmaker who can alleviate the pressure on his guards. But Plumlee got stuffed twice in three possessions with the game in the balance inside of five minutes. Less than 20 seconds later, Henderson entered the game for Plumlee, and now the Trail Blazers, down by three, were matched up small against the Warriors' provisional Lineup of Death, with Shaun Livingston in place of Stephen Curry. There isn't a team in the league that has proved it can beat Golden State in a small-ball affair, and the Trail Blazers provided little competition in the final minutes. Portland's next — and final — hoop came with eight seconds left in a double-digit game.
"We started turning the ball over," Lillard said. "Shots didn't go in, and we stopped trusting what we were doing to put ourselves in that position that we had been in the entire game. When you do that to a team like Golden State, they're going to take advantage of it." McCollum and Lillard will accept no consolation, but the youngest team remaining in the postseason sketched a design Tuesday night for how to play with the league's premier team, Curry's absence notwithstanding. The plan requires near perfection, and while there's no promise that's attainable, even in the deafening confines of the Moda Center on Portland's east bank, the Trail Blazers now have a template for making good at home.