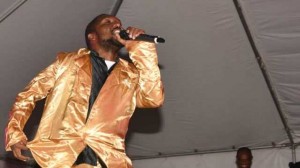 POPULAR radio personality Sugar Bowl marked his Soca Monarch debut with a strong 'Power' performance that topped the Semi-Finalists standings last night (Dec. 6) at the Sugar Mill.
Singing his popular track 'What you gonna Do' and amassing 134 points, the gold-draped performer left the fair-sized crowd calling for more after he left the stage and remarked, "See you in the Finals."
The song speaks of Sugar Bowl in a party, where a lady with whom he was attempting to dance remarked that he was too old, to which he responded that age was only a number. But and after dancing with him, the lady was very reluctant in letting leave the floor.
Second place was however a tie between Mr. Bagnall and Mr. Mention with 125 points.
Following up his previous night's high-quality performance at the Groovy Soca Competition, Mr. Bagnall dished out one called 'Mash it Up' and had fans jumping and waving from beginning to end.
Mr Mention also left the audience purring with a strong showing of energy as he performed his hit song 'Power Up'.
Fourth was Mr. World who performed in front of a then small crowd and amassed 114 points with 'Bottoms in the Road'.
Richie Buntin and Jeezy Sparta were tied for fifth place with 113 points. The former sang 'Higher' while the latter collaborated with Rucas HE to perform 'Thief me Style'.
Delly Ranks with 'Sugar Whine', Jazzbo with 'Bounce' Stadics with 'Hypa Burning' and Fantastic Thunder who performer 'Mango Season' rounded off the top 10 competitors who have gained automatic spots and will meet reigning Monarch Mr. Hype in the Finals on December 19.
Fans will also have the option of voting for one of the other Semi-Finalists who failed to progress. They are Ras Kelly, Tannabal, Foxy, Adowah, Mighty Chapel, Daddy Tustee and Lady Dru.