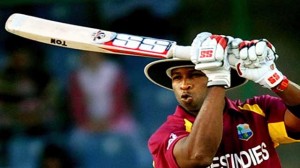 PORT OF SPAIN, Trinidad (CMC) — West Indies all-rounder Kieron Pollard is to take an "indefinite break" from first-class cricket, Trinidad and Tobago cricket officials have said.
The confirmation came shortly after Pollard took five for 36 Monday for T&T in a 175-run loss against the Windward Islands in the WICB Professional Cricket League (PCL) at the National Cricket Centre in Couva.
He will be out of the Red Force team for their next PCL four-day match against current leaders Guyana Jaguars in Guyana starting Friday.
"Pollard has informed the TTCB (Trinidad and Tobago Cricket Board) that he is taking an indefinite break from first-class cricket," said the TTCB Facebook page.
"Pollard is now unavailable for selection for the remainder of matches in the WICB Professional Cricket League Four-Day tournament."
Earlier this season opening batsman Adrian Barath pulled out of the team saying he, too, was taking a break.
Pollard's announcement comes on the heels of countrymen Dwayne Bravo and Lendl Simmons' retirement from Test cricket.
Simmons is currently in the West Indies ODI team taking part in the ICC World Cup in New Zealand and Australia.
"The Trinidad and Tobago Cricket Board would like to thank Kieron Pollard for his services in the first-class match against the Windward Islands," said another post on the TTCB Facebook page.
"The board wishes him the best during his period of indefinite leave from first-class cricket and wishes him an early return."
Media reports from Port of Spain said Pollard sent an e-mail to the CEO of the T&T Cricket Board and the team selectors informing them of the situation.
Pollard's appearance against the Windward Islands was his first match for T&T since the Nagico Super50 tournament in January, hosted by T&T.
He returned to the T&T line-up against the Windwards after recovering from a leg injury.
"He (Pollard) said the stress and strain of the four-day cricket was taking a toll on his body," said T&T Cricket Board Chairman of Selectors Alec Burns.
"Well, it is up to him, when he is ready he will return."