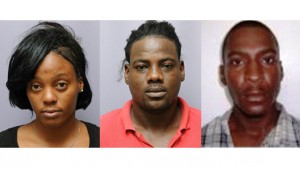 The police have confirmed that they are investigating a case of suspected drug overdose after known convict Nicholas Vaughn "Yankee" Lewis died on the way to hospital Friday night, moments after he reportedly suffered a seizure and collapsed in Gray's Farm.
Emergency Medical Services (EMS) allegedly received a report, around 9:20 pm, that the 35-year-old Gray's Farm resident had suddenly taken "seriously" ill and was "frothing from the mouth", a resident told OBSERVER media.
Police Spokesman Senior Sergeant Frankie Thomas said although there are suspicions as to what caused the repeat drug offender's death, investigators will only get confirmation following an autopsy.
Thomas also confirmed that hours before Lewis died, the police had executed a search warrant at a property on White Road, Gray's Farm where he, Mandella Spencer and Danyella Bynoe were staying.