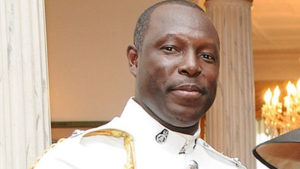 Police were searching for a lone gunman who shot and killed a senior police officer in the presence of his daughter near a Junior High School in the western district of New providence.
The police said that Inspector Carlis Blatch, who served as Aide-de-Camp (ADC) to Governor General Dame Marguerite Pindling, was sitting in a vehicle along with his daughter when he was approached by a male armed with a firearm, who ordered him out of his vehicle. As the officer was exiting the vehicle, the gunman shot him, got into the vehicle and drove away
Blatch was transported to hospital by Paramedics and later pronounced dead. His daughter was able to escape from the vehicle unharmed. A short time later, the vehicle was recovered.
In a statement, the police said they were appealing to members of the public, who would have witnessed the incident on Wednesday to come forward and help in their investigations.
Meanwhile, Dame Marguerite said she is "deeply saddened" by the murder of her ADC for the past four years.
"Inspector Blatch has been on the staff of the Governor-General for the past 14 years, serving with distinction as the officer in charge of protocol, then as ADC to the Governor-General. His service at Government House was marked by his expert understanding of the procedures which attend the affairs at Government House, and as ADC to the Governor-General. He always took great care to pass on his expertise to other staff, among whom he was highly regarded. His interactions with the public also made him respected and admired," according to the statement issued by the Governor General.
"The Governor-General particularly extends sincere sympathy to Mrs. Crystal Blatch and their children and wishes to assure them of her prayers during this time of their bereavement."