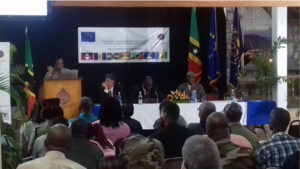 "Over the last two decades, the federation of St. Kitts and Nevis has recorded over 360 homicides. Of those at least 355 were a result of gang activity."
That's according to Acting Assistant Commissioner of Police McArthur Browne, who painted a grim picture of the gang culture in St. Kitts and Nevis while speaking at a Regional Security System (RSS) panel discussion on the topic "Exploring the Impacts of Gang Culture in the RSS Member States".
The discussion was held in St. Kitts Wednesday evening and saw in attendance several government officials, security and probation personnel, along with a few members of the general public.
Acting ACP Browne revealed some of the alarming trends that have emerged with respect to the local gang culture. He confirmed that over the past few years most of the homicides that occurred in the federation were gang and gun-related.
"More than 270 of those homicides were firearm related, of that males between the age 16-35 account for 90% of the victims. With a combined population of just 50,000 these figures put our federation front and center on a debate on criminal gang formation. These figures alone tell us the impact it's been having on our small federation.
"In 2011 we witnessed our worst year of violence when the federation recorded 34 homicides. Of those 98% were gang related. Nevis has a unique problem in that the gangs that are localized to St. Kitts have direct association to troubled youth in Nevis.
'Over the last 10 years, law enforcement combined- police, customs, the military- took over 290 firearms off the streets. Some of these firearms are military grade ranging from AK-47s, M-16s, and AR-15s."
Noting some of the factors fueling the gun violence, Acting ACP Browne highlighted the glorification of gang activity especially in popular music being played on the airwaves every day.
"What is driving the formation of criminal gangs in the federation? Why are young men and some women so angry, cold, callous? Why is there a thirst for blood and revenge?
"During the research we came across six main factors, individual characteristics- pre-existing delinquency, illegal drugs/guns ownership; desire for status, companionship and protection; and violent victimization; family disorganization including broken homes, the neglect and parental drugs and alcohol abuse and family violence.
"We have seen the glorification of gangsterism and when we listen to what is being played on the radio and television. A recent song by a Jamaican artiste "It only take one phone call to make some boy wipe off the earth and drop down flat"; another says "do not waste the bullets". And in February 2019 we witnessed seven homicides, most of them resulted in gunshot wounds to the head. If you want to make some correlation to what is being played on the airwaves in some of these songs of these artistes that we entertain, seven homicides in February alone is enough to say that these songs are having some kind of impact."
The Ministry of National Security and other stakeholder agencies have organized a series of community meetings to discuss issues relating to increasing crime and violence, gangs, and measures, for protecting children and teenagers from gangs and other undesirable activities. The general public has been invited to attend these discussions to share their views and ideas and interact with the community policing team and other distinguished panel members on how to immediately reduce and hopefully in time, totally remove the gang influence from their community.
The next community meeting is scheduled to take place at NEMA headquarters in Lime Kiln on April 4th at 5pm.
Meanwhile Permanent Secretary in the Ministry of National Security Osmond Petty says the government agencies responsible for safety and security and the youth continue their efforts to reach young persons to steer them away from gangs, while law enforcement continues crime fighting initiatives to arrest the increasing gun violence in the country.