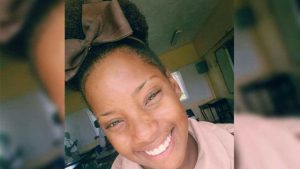 At a Ministry of Education Press Conference held at Government Headquarters on Monday to show awareness to the continuing missing BHS teenager Leanna Napoleon.
Officer Lyndita Powell of the Special Victims Unit informed that three persons of interest including Leanna's brother are assisting the police with the ongoing investigation.
The police officer further informed the public that Leanna's brother had not been cooperating with the public in helping to find Leanna or provide information that could be useful in resolving the case.
Powell said the police have no evidence that the missing teen is dead.
"So far we have conducted about five major searches in areas that Leanna might have been seen. Unfortunately to date we have no concrete evidence, however we have three persons of interest in police custody, one of them is her brother. This is the fourth time that we have him in custody. We are doing all that is necessary we are not leaving any stone unturned in trying to find Leanna and bring her back to her family and friends safely."

"We are still trying our utmost best to see what information we can get from the brother, his information is not forthcoming. That's why we had the need to re-arrest him, we're not giving up. As to whether she is dead or alive, we are hoping that she is alive. We have no evidence to suggest that she is dead and we are hoping that Leanna will be alive, but we are pressing forward with the brother and we will continue to press until we get something that will lead us to where she is."
Powell welcomed the support of the public but cautioned against speculation and the spreading of false rumors. Powell declared however that all avenues were being explored including whether or not it may have been a case of abduction or depression and that the police were following all leads in an effort to bring her home.
Powell further pointed out that from information received, the last time Leanna was seen she was with her brother, that they were talking and there might have been an exchange of cash.
Leanna's brother has been arrested a fourth time by the police.
Police have recently conducted searches for Leanna at Key's Beach, Key's Ghaut and Morgan Heights
"One has to be very careful when jumping to conclusions and the police department investigates leads, but to come to an opinion without any kind of evidence is a bit dangerous. So for the moment we are just following the leads, trying to see how much information we can gather and after we might be in a better position to say whether or not it's a case where she may have been abducted or she might have been depressed or something like that but for now we are not going down that path."

"The information that we got is that she was last seen with her brother, they were talking and there might have been an exchange of cash. I am not aware of her being last seen with an uncle. Our information is that he might have sold a vehicle that belonged to his mother and he would have made arrangements to meet her to give her the portion of what the vehicle was sold for."