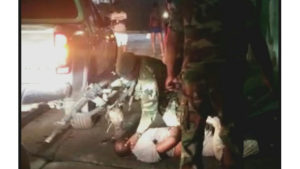 Police are once again under the harsh glare of public criticism over a video showing law enforcement officers kicking and punching a man while taking him into custody.
The video was recorded Thursday night by a resident in the McKnight area, capturing the incident as it unfolded in Westbourne Ghaut in the vicinity of the SKELEC building.
In the cellphone video, several heavily armed Defense Force soldiers and police officers are seen using strong force to subdue an unarmed male, who did not appear to be putting up much resistance. One soldier involved in the scuffle was trying to maneuver a large assault rifle while wrestling with the suspect.
The individual was eventually tossed into the back of a police pickup and was again physically assaulted by a few of the arresting officers during that process.
Freedom FM understands that the man being arrested in the video is Dario Powell, known as Mookie. Investigations reveal that Powell was wanted on suspicion of housebreaking and larceny.
As at press time, police had not indicated that any charges had been brought against Powell.
In an unrelated police story, police say a man is in their custody in relation to a firearm that was found in the Village area on June 04.
"Officers from a joint mobile patrol team in the area observed an individual on a motorbike with what appeared to be a firearm. The individual tried to escape, was pursued by members of the security forces and apprehended shortly after. A search of the area resulted in the discovery of a Glock Pistol with thirteen (13) rounds of ammunition. The man and the firearm were taken into Police custody. Members of the Crime Scene Unit visited and processed the scene. Investigations into the matter are ongoing."
Citizens and residents are reminded that we all have a role to play in keeping communities safe. Persons are asked to report all suspicious activity or information about illegal activity to the Police by dialing the crime hotline at 707.