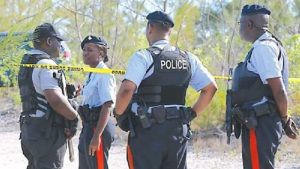 Against the backdrop of seven murders last weekend that pushed the number of homicides in the Bahamas to 27 so far this year, Prime Minister Perry Christie says the crime spree reminds him of the Wild West and he's calling for a national effort to arrest the problem.
However, Police Commissioner Ellison Greenslade remains adamant that the country is not in crisis, rubbishing calls for a curfew or the lockdown of crime hotspots.
"It is a falsehood to tell the Bahamian public and the world at large that the Bahamas is in crisis; that is nonsense," he said at a news conference.
"This country is not at a stage where the average decent citizen has to be concerned about being attacked," Commissioner Greenslade insisted.
But in a separate encounter with the media, Prime Minister Perry Christie yesterday described the situation as shocking and called for the country to put all necessary resources in place to reduce the crime scourge.
"It is insane. It is reminiscent of the Wild West and it something we must get control of as quickly as possible. We will be required to do much more to have a greater capacity to meet the challenge that is now posed to us, to fully try to understand this senseless set of killings/retaliation and to have our system respond to it as quickly as possible in a meaningful way," he said.
Christie is blaming the problem on gangs engaged in retaliation, and suggested that the response must entail a stronger police presence on the streets.
"This madness has to do with gangs and retaliation…There must be a continuous response to it and it has to be on flooding the streets with officers and equipment to be able to intercept and interdict."
Commissioner Greenslade agreed that the young people were at the heart of the recent incidents of crime, both as victims and perpetrators.
"These are people that have fallen through the cracks of our society and they did not remain in school. The ones who did, when they got out of school, chose to associate with the wrong type of company and this is 'tit for tat, you touch my boy I touch your boy' type of thing."
He however went one step further and appeared to be pointing fingers at the judicial system, suggesting that the only solution was to keep "prolific offenders behind bars".
"We have a problem, let's not kid ourselves, and that problem is prolific offenders that are in and out of the system who are not prepared to not live a life of crime," the police chief said.
"We have to ensure that people that walk around with assault weapons and other variations of weapons, that have raped people, that have attempted to rape people, that have killed people, that have attempted to murder people, they should remain…incarcerated and have their day in court. If we continue the way we are going we will continue to chase our tails," Commissioner Greenslade insisted.