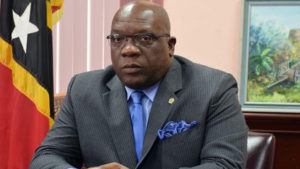 In what some circles are calling damage control, Prime Minister Dr. Timothy Harris is once again highlighting all the financial assistance his administration has provided to Nevis since Team Unity took office.
This comes after he was accused of attempting to undermine Nevis Premier Mark Brantley when he said he had to ensure federal money given to the Nevis Island Administration was not "squandered".
Dr. Harris, federal Minister of finance reminded that over the past four years more than $200 million has been provided to the NIA for the development of Nevis. He said the reality is Nevis has never had it better than it has under his leadership.
"Before Team Unity there was never any budget support for provided by the federal government to the island of Nevis. Today, the federal government has provided support of over $130 million of budgetary support to the NIA. Not only has the federal government been supportive the National Bank has been supportive in reorganizing and restructuring the loan facilities that had been extended to the NIA, before event the arrival of the Mark Brantley administration, and the federal government has had to give certain easements to the bank to facilitate that restructuring.
"Over the past four plus years of a Team Unity government, over $200 million to support developments on the island of Nevis- we have facilitated this. So again, I can't add much more but to repeat the words of the representatives of Nevis, Premier Brantley that under Team Unity Nevis and the NIA and the people of Nevis are witnessing their best years ever.
"The hard, harsh facts, the real facts are, that Nevis has never had it better than under Team Unity and will never get it again as good as it now has it under the Team Unity Administration."
The Prime Minister further outlined each project where the federal government through the SIDF had made funding available to the NIA, including the expansion of the Alexandra Hospital, purchase of a generator for NevLec, the new Oualie pier, and the Mondo Sports Track. The financial intervention for the various projects totaled more than $60 million, he stated.
The opposition Nevis Reformation Party has labelled the Prime Minister's money squandering comment as an indictment on Premier Brantley's CCM-led administration, claiming the Nevis government could not account for federal monies received for projects.
While Premier Brantley, NIA Minister responsible for Finance, has not responded to either the Prime minister' comment or the NRP's claim, he posted what some say is a response of sort on Facebook, saying "To my people of Nevis and the wider Federation, an election is coming and there is currently a lot of noise being made, but we know it to be true that a wise head keeps a still tongue. Your CCM Party will speak … but at the right time."