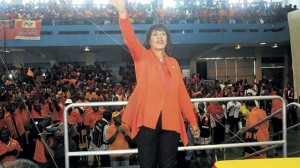 DESPITE members of the private sector, civil society and the parliamentary Opposition calling for the naming of the election date, prime minister and People's National Party (PNP) President Portia Simpson Miller told thousands of supporters on Sunday night that the date for the 17th General Election will not be announced without divine intervention.
"The journey might be long and I'm not telling you that the campaign will not be long. And I hear everybody guessing whether I'm going to call election or not. You will be appropriately informed when my master touches me and say, 'my daughter go [now]'," Simpson Miller told Comrades who converged for a mass rally in Independence City, Portmore, St Catherine.
The prime minister, whose prerogative it is to call an election, said the announcement will come at the right time.
"And as I go around, I will feel the pulse and then at the right time I will give you the sounding of the trumpet. Oh my Comrades, see the signal waving in the sky reinforcement…victory, victory, victory is nigh," the party leader said to jubilant Comrades who she urged to "get ready".
It has been widely speculated that the reason for Simpson Miller's hesitancy to send Jamaicans to the polls is because of the findings of an internal poll which show the governing party trailing the Opposition Jamaica Labour Party (JLP).
The PNP's Deputy General Secretary Paul Burke has, however, rubbished the assertion. He described it as "political speculation" and said "the party is ready, we are moving forward, the momentum continues". Burke added: "We have a target of where we want to be and we are heading there, we are moving towards that target."
In September, Director of Elections Orrette Fisher told the Jamaica Observer that a move by Parliament to implement a fixed election date would be welcomed by the Electoral Commission of Jamaica (ECJ).
Also, last month co-chair of the Economic Programme Oversight Committee (EPOC) Richard Byles insisted that if the Government has any intention to call a general election, then it should do so and take the country out of its current state of limbo.
"If it is coming, then it should just happen and be done with. The last thing Jamaica needs at this point is a stop-and-start process, first yes, and then no, prolonging the period of political uncertainty," he said then.
Public speculation about whether the ruling party will call the elections this year has intensified; however, a general election is due between December 29, 2016 (the day of the previous election in 2011) and April 16, 2017 (within three months of the date of the first sitting of the new Parliament on 17 January 2012).