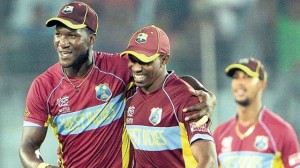 JOHANNESBURG, South Africa (CMC) — Four of the players who controversially quit the recent tour of India have signed contracts to play in South Africa's Ram Slam Twenty20 League.
ODI captain Dwayne Bravo, Windies T20 skipper Darren Sammy, along with Kieron Pollard, and Andre Russell have all been announced by Cricket South Africa to play in the tournament which bowls off next Sunday and finishes on December 12.
International T20 star Chris Gayle, who did not tour India because of injury, has also signed up to represent Lions franchise.
"I am delighted to announce that our franchises have recruited some of the world's best T20 players," said tournament director, Graeme Smith.
"In my discussions with all the superstars it has been satisfying to note their eagerness to play in the Ram Slam as they regard South Africa as one of the best cricket leagues in the world."
CSA Chief Executive Haroon Lorgat added: "We are determined to raise the standard and profile of our domestic cricket and there is no doubt that these top class international players will entertain our fans over the next six weeks."
Bravo will turn out for Dolphins, Sammy will play for the Titans, Pollard will suit up for Cape Cobras, while Russell will be on the Knights' roster.
However, Bravo is set to miss the first match of the series for Dolphins, but the other Windies players are expected to be available for the entire league.
Bravo was at the centre of the recent imbroglio, leading the West Indies players fight with their union, WIPA, over the new terms and conditions of the Collective Bargaining Agreement (CBA).
The players have argued that the CBA leads to a drastic reduction in their earnings and have called for a return to the old agreement.
They quit the tour following the fourth ODI in Dharamsala, abandoning games scheduled for Kolkata and Cuttack, and the three-Test series carded to start October 30.