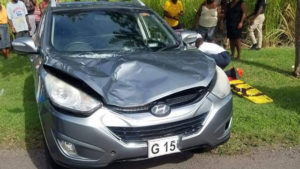 Police are investigating a traffic accident where one of their own vehicles hit a pedestrian in the White Gate area Sunday morning.
The incident occurred close to 8 a.m. and involved motor jeep G150 which is owned by The Royal St. Christopher and Nevis Police Force and was being driven by Officer Marlon Raymond.
The circumstances as reported by police are that G150 was travelling from St. Paul's to Dieppe Bay when the vehicle in front stopped suddenly. The Officer then lost control of the vehicle and struck with Tyrique Browne of St. Paul's who was walking along the grass on the side of the road. The jeep then collided with a tree.
Officer Raymond and Browne were taken to the Pogson Medical Centre and the JNF Hospital respectively. Browne sustained a number of injuries including a broken arm. He is warded in a stable condition. Officer Raymond was treated for his injuries and discharged.
Police are also investigating another accident on the island's main road, that one took place on Monday morning just before 10 o clock in Half Way Tree. Initial investigation revealed that a Carib Brewery delivery lorry had just pulled out from a shop and was heading in the direction of New Guinnea when a passenger bus driven by Kadeem Warner of Newton Ground collided to the back of the lorry.
While there was minimal damage to the lorry, the front of the passenger bus was extensively damaged and the driver had to be extricated by Fire and Rescue. He was take into the hospital for injuries to his legs including a broken foot. There were no passengers in the bus at the time of the accident and no other injuries were reported.