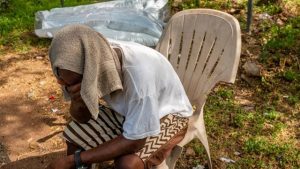 Although the summer solstice isn't until Wednesday, blistering, dangerous summer-like heat has already been the main weather story across the south-central U.S. over the past few days. And there is little relief in sight for sun-scorched states such as Texas and Louisiana, forecasters said.
"It's going to be really bad," said Bob Fogarty, a National Weather Service meteorologist in the Austin/San Antonio office. "It's going to be oppressive."
The temperature in San Angelo, Texas, soared to an all-time high of 114 degrees on Tuesday, according to the weather service.
Meanwhile, Texas' power grid operator asked residents Tuesday to voluntarily cut back on electricity due to anticipated record demand on the system. While the Electric Reliability Council of Texas said it was "not experiencing emergency conditions," the agency noted the state hit an unofficial June record for energy demand on Monday.
AccuWeather meteorologists expect that the heat dome that has caused temperatures to skyrocket throughout June will continue to jeopardize heat records for at least the next several days.
Excessive heat warnings in effect
High temperatures were forecast to soar into the 100s and 110s across southern Texas, the weather service said. And there will be little respite in the evenings as lows only drop into the 70s and 80s.
"No clear end in sight to this oppressive heat," the weather service said on Twitter. "Continue to do what you can to keep cool!"
Excessive heat warnings and heat advisories are in effect for much of Texas and Louisiana as a result, according to the weather service. An excessive heat warning means that "dangerously hot conditions with heat index values of 110 – 120 degrees are expected, the weather service said.
Austin, Texas, sees uptick in heat-related illness calls
According to the Austin-Travis County Emergency Medical Services, first responders have received dozens of heat-related calls since temperatures began to increase last week.
The agency said there has been 67 heat-related illness calls from June 11 through Tuesday morning. Cpt. Christa Stedman, an agency public information officer, said there has "unquestionably" been more heat-related illness calls than what data shows.
"Extreme heat and humidity will significantly increase the potential for heat-related illnesses, particularly for those working or participating in outdoor activities," the weather service warned.