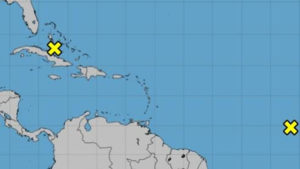 Weather and disaster officials in the federation are monitoring a system that is approaching the island chain which could affect St. Kitts and Nevis early next week.
The following is a statement by Senior Met Officer Elmo Burke issued Thursday afternoon:
"The St. Kitts Met Office in collaboration with NEMA is closely monitoring a tropical wave which is on the mid Atlantic area and as it progresses toward the Caribbean island chain. The National Hurricane Centre has given it a moderate chance of development which is about a 60% chance as at 2pm Thursday, and because of that we here in St. Kitts and Nevis are closely monitoring it.
"The system is expected to continue to develop as conditions are expected to become gradually favorable as the system progresses toward the island chain. Based on this, we're anticipating the system to be near us or in our vicinity early next week, and as such we are advising the general public to listen for additional information from the St. Kitts Met Office in collaboration with the Disaster Office. We will provide you with accurate and timely information so that you can respond accordingly."
For more information on the system, log on to https://www.nhc.noaa.gov/