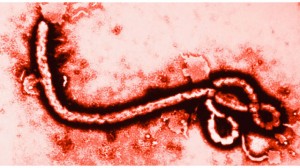 "Antigua & Barbuda is as prepared as it can be for a possible occurrence of Ebola," amidst fears that the virus could reach the country's shores.
Chief Medical Officer, Dr Rhonda Sealy-Thomas, who is currently attending a series of meetings in Washington DC to discuss the response to Ebola, said the local task force set up to deal with the Ebola crisis will be meeting Thursday afternoon to finalise a draft response plan, but the country is a ready as it could be.
Another member of the local task force Dr James Knight, confirmed that the nation's Emergency Medical Services (EMS) have already identified the ambulance to be used in the event of an Ebola case here.
He said technicians have been trained in the use and removal of personal protective equipment and that further training was scheduled for later this month.
Dr Knight, however, said while the task force has not yet completed preparations on quarantine facilities at the former Holberton Hospital's compound, the group hopes to have everything in place by the end of November.
"If we had to isolate one person then we could. But we're still working on the facility [to be used] if we had more person affected.
The doctor added that people could also use their homes as a quarantine area in the event of a suspected case, since the disease is not contagious until a few days after symptoms become apparent.
"You can be monitored at home or healthcare professionals can monitor you wherever you are each day to make sure you're not developing any signs or symptoms," he said.
Dr Sealy- Thomas told OBSERVER media that representatives of the Pan-American Health Organisation will be arriving on island in the coming months to assist with preparing the proposed quarantine facility at the Margetson Building.
On Tuesday afternoon, the United States confirmed its first case of Ebola hemorrhagic fever in Dallas, Texas, but Dr Knight said there is no need for residents here to panic.
"No population that I know in this part of the world should really panic," Dr Knight said, adding that the case in the United States was still under control.
While locals may be concerned about a wildfire-like spread of the virus through the Caribbean, as was seen in West Africa, Dr Knight noted that differences in development and infrastructure made such a situation unlikely.
"We just don't have the unfortunate conditions that exist, in say, Liberia," he said, the worst of our facilities can outshine what they have."
Dr Knight added that public misconceptions about Ebola among the West African community and cultural practices like traditional burial contributed to the spread of the virus.
"People take their relatives to local healers and curers and maybe, witch doctors. Sometimes, people hide their cases in their homes," he said.
Regionally, the Ministry of Health in Jamaica is now on high alert, and will continue to monitor traffic into the country at the ports, according to Dr Kevin Harvey, acting permanent secretary in Jamaica's Ministry of Health.
St Vincent is also taking precautions to avoid the disease. Two Nigerian students were quarantined last month after failing to produce medical certificates stating that they were not infected with Ebola.
In his address to the United Nations last week, Prime Minister Gaston Browne advocated for a global response to the Ebola crisis, citing that success would best be achieved if the effort is a global one.
Early symptoms of Ebola typically include headache, joint and muscle pain, sore throat, lack of appetite and general malaise. Ebola is often characterised by a high fever as the illness progresses as well as vomiting, and bleeding from bodily orifices such as the eyes, ears, and nose.
According to the Centers for Disease Control (CDC), Ebola spreads through direct contact through broken skin or mucous membranes with blood or body fluids, or contaminated needles and syringes. The virus cannot be spread through air or water.