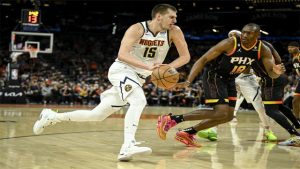 Vincent Goodwill and Dan Devine sit down courtside at Ball Arena after the Denver Nuggets clinched the NBA Championship in game 5 of the Finals over the Miami Heat to talk about the game, the series, and the future of both franchises.
When searching for answers for why the Nuggets are champions, beyond "Nikola Jokic is amazing", the guys settled on the patience and perseverance of the Nuggets front office and head coach Michael Malone.
Vince and Dan look back at the trade that brought Kentavious Caldwell-Pope to the Nuggets, a trade that wasn't very popular when it took place, and how he ended up being a perfect fit for what they were building.
Jimmy Butler might be injured, or just tired, but he didn't look like what we expected him to be in the series. Really, he didn't look like he had anything left to give until the final few minutes of game 5. And he spent the entire series avoiding Jokic in the paint.
Speaking of Jokic, the guys spend a few minutes talking about his greatness and wondering if any player in NBA history would be able to stop him 1-on-1. But just because he's great now doesn't necessarily mean that this is the start of a Nuggets dynasty.
Finally, the Miami Heat have to be tired of getting close but not winning the title. Could losing in the Finals be the thing that leads them to pursue a trade for Damian Lillard?