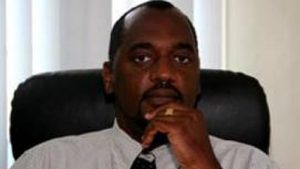 Candidate and Deputy Leader of the Opposition Nevis Reformation Party Dr. Kelvin Daly says the NRP members would have no difficulty declaring their assets should they form the next government in Nevis.
Dr. Daly while a guest of Freedom FM's Issues talk show on Tuesday, said the CCM-led NIA Cabinet members filing their declarations with the Integrity in Public Life Commission was all smoke and mirrors. He is of the view that the public should be able to see those declarations.
"I have no difficulty. NRP is prepared to release our statements. The parliamentarians in N RP have nothing to fear- nothing whatsoever.
"They made a big song and dance and a pony show about going in and presenting their documentation to the IPL Commission; big song and dance. If they are going to give their documentation to the Commission I would like to know that the public could see those documents; put them out there for everyone to see. Since 2013 this legislation has been up and down. For a man who says he's the most honest politician on Nevis, the Honorable Mark Brantley, we want to see what's in your report."
Premier Mark Brantley had indicated that while some of the Cabinet members had complied with the Commission's request for the declarations of assets, the NIA intends to take the IPL Ordinance back to the parliament next week to have it amended as some persons serving on Statutory Boards and the like did not wish to open themselves up to that level of scrutiny.
Dr. Daly however says these officials should be included under the IPL legislation, but there are other aspects of the ordinance that should be amended.
Another point of contention for the Opposition candidate is whether or not the Integrity Commission has the capacity to investigate any asset holdings the ministers may have overseas.
"I'm not a minister of government, I'm not a parliamentarian so it doesn't really affect me. They intend to go into parliament and change some regulations regarding who should be affected. There are some issues for me where that is concerned. Those guys who are parliamentarians like Mr. [Joseph] Parry, you were under the old legislation to report the income of your children. These are grown people; how can you force them to release their income? But all those who are under the ambit of the government especially advisors, they should be included. Here the government goes and trying to remove them from scrutiny which I think is a huge error.
"They're not making a big song and dance that the office is still understaffed; that the letters we have written to the Public Life Commission to have examined, they have not moved a single inch on them; they have not reported any matter we've asked them to investigate- nothing.
"Does the IPL Commission have the resources to do a forensic audit on those reports to see whether the truth is being told in those documents, and are they able to search overseas for bank accounts and other holdings of these ministers. Because you can say I can go down to Charlestown main street and get RBTT, Scotia Bank, FirstCaribbean, whatever, to report, but what about the Caymans, Anguilla, St. Maarten- do they have the authority to investigate to see if our ministers of government are holding assets in those banks?
"This is all just a pony show; it means nothing- it's incomplete. If you're not going to be able to examine because you don't have the manpower to forensically look at the documentation provided by the ministers- by Spencer Brand and [Eric] Evelyn and Mr. [Mark] Brantley and whom ever else; if you don't have the resources to properly examine if what is being reported is actually true then what's the point of it."