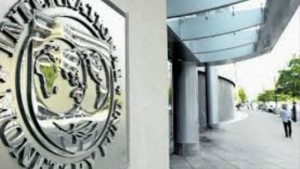 The International Monetary Fund is not bowled over by Barbados' economic progress or the Government's plans to fix the island's spiralling debt and falling international reserves.
In fact, it has advised the Freundel Stuart administration to take "urgent" corrective action.
Following an IMF team's two-week Article IV Consultation which ended yesterday, head of the mission and Deputy Division Chief Judith Gold warned that despite the introduction of revenue generating measures, Government would not meet its targets, describing the programme as simply "too ambitious".
The Fund has forecast that the Government was likely to fall short of its overall targets, even with the substantial hike in the National Social Responsibility Levy (NSRL) from two to ten per cent, an introduction of a new sales tax on foreign currency transactions, and a hike in the excise duty on fuel. It specifically pointed to exemptions to the NSRL, lower-than-expected non-oil imports, shortfalls in some other revenues, and high transfers as being responsible for that likely shortfall.
The Washington-based institution also warned that the country's international reserves, which stood well below the 12 weeks benchmark at just 8.6 weeks of import cover or US$549.7 million at the end of September, were likely to dip even further by yearend as Government continues to service its debt, and private foreign inflows remain weak.
Against this backdrop it advised that "substantial further fiscal effort is needed to decisively place the debt on a downward trajectory".
"Given the urgency in addressing funding, balance of payment risks, the high debt, and the limited policy options, the fiscal adjustment must continue, with a focus on accelerating [state-owned enterprises'] reforms to facilitate a significant and durable reduction in transfers," Gold said, adding that structural reforms to support growth and improve the business climate for domestic and foreign investment were also critical.
"These reforms would aim to improve business processes, such as significantly reducing clearance times for immigration and customs, accelerating approval of building permits, and streamlining legal procedures," she added.
Gold also recommended that any adjustment strategy should focus on addressing the high transfers, containing other current expenditures and maintaining a strong revenue effort.
"Reforms of state owned enterprises should include improved management, cost recovery, reduced services, mergers, closures, and privatization. Containing other current expenditures, including the wage bill, and Government pensions is also critical," she said.