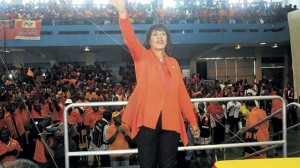 DR Peter Phillips, the finance minister, said yesterday that it would not be hard to resist the "urge to splurge" because there was no money in the kitty to spend on elections widely expected by year-end.
Phillips also reiterated that the country had "come too far to turn back now", after all it had achieved under the Extended Fund Facility pact with the International Monetary Fund (IMF).
'Some people might not remember how far we are coming from.
Jamaica was on the edge of a precipice four years ago. Nobody was willing to lend us any money. Our debt was over 140 per cent of GDP.
We had been closed off by the multinationals and the private lending agencies. We were downgraded.
We were surviving on just over 12 weeks of reserves," Phillips told editors at the first of two news luncheons with the major political parties at the Beechwood Avenue offices of the Jamaica Observer in Kingston.
Asked how he managed to resist the urge to splurge on the coming elections, Phillips, speaking in the presence of Prime Minister Portia Simpson Miller, who led a 16- member team of ministers and junior ministers, stressed that all members of the Cabinet had lined up behind the position that irresponsible spending on elections would undo the great gains of the past four years.
"We mustn't forget that four years ago 80 cents out of every dollar went to debt and wages.
Everything else had to come from the remaining 20 cents. We had a simple challenge, which was to stop the fall and recover our competitiveness.
We have come too far as one of the 10 most improved economies in the world; our debt is down by 20 per cent.
So from 80 cents out of the dollar, we are now down to 52 cents for debt and wages; we have successfully completed 10 quantitative reviews of the Extended Fund Facility agreement… We have come too far to turn back now," he said.
Supporting Phillips, Prime Minister Simpson Miller underscored the determination of the Administration to protect the poor under the IMF economic reform programme.
"We did not want to hurt the poor, the people who depend on the Government, such as the families served by the PATH programme," she said.
"Otherwise things could have been worse."
Provisions were made to ensure that protection by establishing a floor on social spending.
PATH benefits were increased annually by 30 per cent, pensions by 66 per cent, the budgets for health and education increased each year and the National Minimum Wage raised twice, with a third review underway, Phillips added.
Also present at the luncheon were: Water and Climate Change Minister Robert Pickersgill; Mining and Energy Minister Phillip Paulwell; National Security Minister Peter Bunting: Foreign Affairs Minister A J Nicholson; Education Minister Ronald Thwaites; Industry and Commerce Minister Anthony Hylton; Tourism Minister Dr Wykeham McNeill; Youth and Culture Minister Lisa Hanna; Labour and Social Security Minister Dr Fenton Ferguson; Agriculture Minister Derrick Kellier; Information Minister Sandrea Falconer; junior minister for technology Julian Robinson; junior minister for works Richard Azan; junior minister for transportation Morais Guy and junior minister for industry and commerce Sharon Ffolkes-Abrahams.