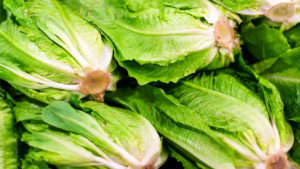 Despite the recent recall of romaine lettuce in the United States, no such advisory or recall has been issued in St. Kitts.
Earlier this week the US Food and Drug Administration (FDA) and the Centre for Disease Control (CDC) issued a recall and advisory to consumers, restaurants, and retailers for romaine lettuce harvested from Salinas, California, due to an outbreak of E. coli.
According to the CDC, as of November 25, 67 people had been infected with the outbreak strain of E. coli O157:H7 across 19 states, 39 of those resulted in hospitalization.
The class 1 recall issued means that this is a health hazard situation where there is a reasonable probability that the use of the product will cause serious, adverse health consequences or death.
Consumers are being advised not to eat romaine lettuce harvested from Salinas, California or eat salads or other products identified in the recall.
The CDC says if the label on the romaine lettuce does not indicate where it was grown, consumers should Throw it away or return it to the place of purchase. Consumers ordering salad containing romaine at a restaurant or other food establishment are advised to ask if the romaine came from Salinas and if it did, or they do not know, they should not eat it.
At this time, romaine lettuce that was harvested outside of the Salinas region has not been implicated in this outbreak investigation, therefore there is no recommendation for consumers to avoid using romaine harvested from these other sources. The CDC says this outbreak is caused by the same strain of E. coli that caused outbreaks linked to leafy greens in 2017 and to romaine lettuce just one year ago.
Based on the US recall, several countries in the region including Antigua and Barbados have already issued health advisories and recalls with respect to the e-coli outbreak in the Salinas- grown lettuce.
Freedom FM contacted the Ministry of Health Wednesday morning and was told there is no recall or advisory in effect on St. Kitts. While Agriculture officials on Nevis say they are aware of the US recall of the romaine no one in that ministry could indicate if a recall notice had been issued.