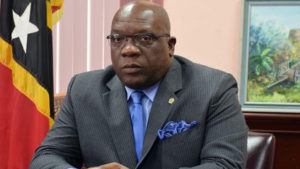 More than a year after the IMF completed a report on its assessment of the St. Kitts and Nevis economy for 2018, and the government still has not given consent for the agency to publish that report.
The report was completed in September 2018 following the annual Article IV consultation on the federation however the government would only say it exercised its option not to have the report made public.
Prime Minister and Minister of Finance Dr. Timothy Harris later said the government had issues with that report, but refused to say what those issues were.
At a press conference Monday, the Prime Minister was again questioned by the media about the status of that report and if there has been a subsequent IMF analysis and report.
"There is no IMF report so there is none to be given. The IMF has not basically provided a report to us. The situation with respect to that has not changed," was all he offered.
The IMF has recently published reports from Article IV consultations on other countries in the eastern Caribbean but so far none has been published for St. Kitts-Nevis.
Leader of the opposition, Dr. Denzil Douglas has indicated that the government did not allow the IMF to visit the federation to conduct the Article IV consultation for 2019.
Freedom FM has written to the IMF to ascertain the status of the 2018 report and if a staff mission was allowed to conduct the Article IV consultation for 2019. However a local government official has confirmed that the IMF did not make their usual visit to conduct the annual assessment.
The last time a staff report for an Article IV consultation for St. Kitts and Nevis was published the IMF was July 2017 when the agency said the federation had attained the strongest growth and fiscal performance in the ECCU region in recent years, but that much of that was due to robust Citizenship-by-Investment (CBI) inflows.
The IMF had added however, "CBI revenues fell significantly last year and are expected to fall further going forward."