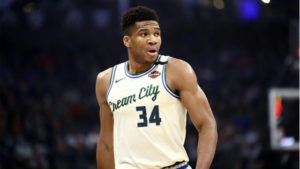 The sudden collapse of Silicon Valley Bank this spring shone a spotlight on federal deposit insurance, which only extends to $250,000 of a customer's money at a single bank. When Giannis Antetokounmpo first learned of the limit, he opened half a dozen bank accounts to protect his fortune.
The basketball star arrived in the US a decade ago at age 18, and went to the bank to open an account, he told Bloomberg earlier this year. "I had no money growing up, so I asked them, 'Is my money safe?'" he recalled. After finding out about the $250,000 cap, Antetokounmpo promptly opened accounts at "five, six, seven" banks.
Marc Lasry, the billionaire co-owner of Antetokounmpo's team, the Milwaukee Bucks, shared his reaction to learning of Antetokounmpo's numerous bank accounts at the Bloomberg Wealth Summit in 2022.
"I'm like, 'Giannis, you can't be having accounts at 50 different banks," Lasry said. "Let me tell you something, if JPMorgan goes under, your little dinky banks are going to go under too. Let me explain what you should buy, you should buy US Treasuries, you should buy this…'"
Lasry, a distressed-debt investor, noted that Antetokounmpo's concerns about safeguarding his cash likely stemmed from his childhood in Greece. The Mediterranean country suffered a sovereign-debt crisis in the mid-2010s that stoked fears among citizens that their bank deposits could be seized or lost.
In recent years, Antetokounmpo has acted on the advice of Lasry and other trusted advisors. "There's way smarter ways to do it, keep your money safe," the power forward told Bloomberg, adding that he's strategically expanded his portfolio since the pandemic.
Antetokounmpo has plenty of money to protect and deploy. He netted an estimated $81 million in earnings on and off the court in 2022, according to Forbes. The magazine ranked him 10th on its list of the world's highest-paid athletes, after the likes of Lionel Messi ($130 million), LeBron James ($121 million), and Tom Brady ($84 million).
The "Greek Freak" has also partnered with Calamos CEO John Koudounis on an exchange-traded fund that invests based on environmental, social, and governance criteria.
The Federal Deposit Insurance Corp. (FDIC) took control of SVB and Signature Bank this spring after they suffered a wave of withdrawals, and moved to prevent further bank runs by insuring all deposits at both lenders.
High-profile investors including Bill Ackman and Mark Cuban called for the agency to temporarily scrap its $250,000 cap and insure all bank deposits to prevent any further mass withdrawals and more bank failures.