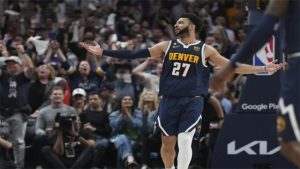 The Denver Nuggets will head to Los Angeles with a 2-0 lead, and all it took was an appearance by Bubble Jamal Murray. Plus the usual from Nikola Jokić.
The Nuggets guard looked like the version of himself that gained fame in the 2020 playoffs with a 37-point performance on Thursday, leading the Nuggets to a 108-103 win over the Los Angeles Lakers in Game 2 of the Western Conference finals. Game 3 is scheduled for 8:30 p.m. ET Saturday at Crypto.com Arena.
Murray led all scorers, and he also finished with 10 rebounds, 5 assists and 4 steals. Meanwhile, Jokić had a monster night with 23 points, 17 rebounds, 12 assists and 3 steals.
Murray entered the fourth quarter with only 14 points, then threw down 23, coming 1 point short of outscoring the entire Lakers team. Here's how that looked like as part of the Denver offense:
It was an uneven games for the Lakers who held a significant lead for much of the second and third quarters before the Nuggets took firm control in the fourth. Rui Hachimura (21 points on 8-of-10 shooting) and Austin Reaves (22 with 5-of-9 3-point shooting) were good, D'Angelo Russell (10 on 3-of-8) not so much.
Even LeBron James had some regrettable moments in a night where he was one rebound from a triple-double at 22 points, 9 rebounds and 10 assists.
By the end of the game, both teams looked gassed, but the Nuggets had the player who couldn't miss. It was good enough to push them halfway to their first NBA Finals appearance in franchise history.
Nuggets coach Michael Malone didn't hold back after their win.
Now with a 2-0 series lead, Malone was quick to respond to the national narrative he said he saw when it came to their series after Game 1 on Tuesday.
While it's easy to see why people pay attention to the Lakers, both given the franchise's history and James, the Nuggets are the top seed in the Western Conference. They've more than earned their spot here, and they were favored coming into the series.
But, hey, whatever works.