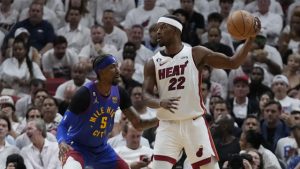 The Miami Heat are at their best when they make sure you can't access your best performance, and to win the NBA Finals, allowing the Denver Nuggets to have historic outputs and winning the physical game is unacceptable.
The Heat didn't play Game 3 on their terms, watching as Nikola Jokić and Jamal Murray danced all over the floor to the tune of their own creation, and the Heat kept clapping on the 1's and 3's.
Missed rebounds, missed shots and bodies hitting the floor were an unexpected sight for the Heat in their first home Finals game in nearly 10 years. Perhaps they relaxed a little after stealing home-court advantage for the fourth straight series.
Maybe they thought they took the Nuggets' spirit in Game 2 and saw them as more of a finesse team than a physical one.
But the Nuggets ain't punks here, and they dished out a beating that, hopefully for Miami, knocked some sense into these upstarts. "No rebounds, no rings," Heat culture, all those things are in the franchise's ethos, but they didn't get the memo Wednesday night.
The 109-94 Nuggets win not only reset home-court for Denver but seemingly took away some of the toughness mystique the Heat have rightfully established. The numbers, even more so than Jokić's 32-21-10 night and Murray's 34-10-10 showing, were ghastly.
The Heat were outrebounded by 25, only picking up 33 rebounds total — with Bam Adebayo (17) collecting more than the rest of his teammates combined. The Heat can lose games because opponents are more talented than them — for all the talk of the undrafted players making such a huge impact, there is a considerable talent disparity between the two teams.
But they aren't supposed to be outmuscled on their home floor, or anyone's floor. Not this Heat team, not ever. It was stated and repeated ad nauseam by Erik Spoelstra in the postgame. Each statement sounding more and more searing and more damning.
"We lost a lot of physical, 50/50 or ball-in-the-air, ball-on-the-floor battles throughout the course of the game, at key moments," Spoelstra said. "When the moments could have been swing moments, they were coming up with those plays.
"At our best version, we find ways to overcome that, make it tough on them and then certainly not lose the overwhelming majority of those physical battles, the 50/50 battles, the ball-in-the-air, ball-on-the-floor battles."
Spoelstra knows going shot-for-shot with the Nuggets will result in a quick exit in what could be a competitive, up-in-the-air series. The Nuggets have too much firepower and still haven't gotten Michael Porter Jr. untracked yet.
But Miami is here because it plays a version of mistake-free basketball. It's how the Heat outlasted Milwaukee and Boston.
Mistake-free basketball can't bake in all the missed shots in the paint. It felt like for as often as Jimmy Butler and Adebayo got there, they couldn't convert at the rate that's required. Butler kept noting he got "two feet in the paint," and he was right.
The box score says Butler led the Heat with 28 points and shot a respectable 11-for-24, but he missed more than his share of gimmes along the way. It would help if Max Strus and Gabe Vincent didn't combine to miss 14-of-17 shots with 8-of-10 triples clanking, but it's hard to gauge realistic expectations.
If there's a positive to take going into Game 4, Butler, who hasn't looked 100 percent and limped off the podium following the loss, got to spots he wanted against smaller defenders. The downside to that is the Nuggets didn't compromise their defense, didn't over-help and left the Heat shooters roaming on the perimeter.
If that's the case, Butler will have to do what Miami did to Jokić in Game 2: become far more offensive-minded and far more efficient.
"Shoot the shots that I know that I can make," Butler said. "Stay aggressive. It's the same thing. I think if guys were open, like I said, I've always got to pass it to them. I will continually do that. But if I get two feet in the paint, I'm expected to shoot a layup or a floater, and I'm expected to make it, too."
Usually someone comes up big for the Heat, particularly shooting. But shooting can't be a factor when you're getting pummeled on the glass. Aaron Gordon was a bully and Murray's 10 rebounds were far more than every other member of Miami's first five sans Adebayo.
"I just think sometimes, for us, when we lose a lot of those physical battles, the effort plays, the loose balls, the rebounding battles, that's our identity, and sometimes that can affect the flow of the rest of your game," Spoelstra said.
"That's not an excuse. I think the thing that we've proven over and over and over is we can win and find different ways to win regardless of whether we have confidence, regardless whether the ball is going in. We have a determination to impact the game and find a different solution or different way to win a game regardless of whether the ball is going in."
The toughness is supposed to be a non-negotiable and it turned into a variable.
"We didn't play our best tonight. I feel like we just got to come out with more energy and effort, and that's correctible," Butler said. "That's on us as a group. No X's and O's can fix that.
"So come out, dive on the floor, get loose balls, get defensive rebounds and maybe, just maybe, it would have been a different game."
Butler was Murray's primary defender early and didn't quite establish the physicality to make him uncomfortable on those potential pick-and-rolls with Jokić. It's a true chess match at this point of the series, but it feels like Miami has only so many more adjustments it can make as this thing progresses.
Jokić as distributor became a theme again, and even when Miami was close it never felt like the game was played by the Heat's rules. At some point, the adrenaline was going to run out and execution was going to take center stage.
The Nuggets' execution is a relationship they have with themselves, rarely the opponent. Miami's gift in its execution is bringing your C-game out of you, or even worse.
It seems clear the series will be decided by that simple fact, and Miami made things far worse on itself by being a little too cute coming in Wednesday's game.
But being cute doesn't work when you're supposed to win ugly.