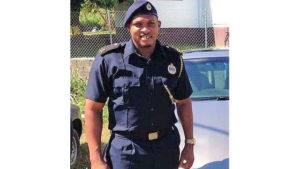 Leon Natta-Nelson of Molineaux was formally arrested and charged on Wednesday (October 10) for failing to renew his Firearm Users License between February 01, 2018 and October 07, 2018.
His Firearm Users License expired on December 31, 2017. Natta-Nelson failed to renew the license within the lawfully stipulated period which would have been on or before January 31, contrary to section 44(4) of the Firearm Act (2009).
Section 44(5) of the Firearm Act states that "Any person who fails to pay the appropriate fee in accordance with the provisions of this section commits an offence and, on summary conviction thereof before a Magistrate, shall be liable to a fine not exceeding five thousand dollars and in default of payment to imprisonment with or without hard labour for a term not less than twelve months and not exceeding three years."
The weapon, along with 25 rounds of ammunition, were confiscated by the Police on Monday, October 08.
He was subsequently granted bail in the sum of $10,000 with two sureties for his appearance before the Basseterre Magistrate in December.
Meanwhile The St Kitts- Nevis Labour Party suspected Representative for Constituency #7 Leon Natta has been arrested for allegedly not renewing his gun license on time.
According to reliable sources the arrest warrant was signed by Magistrate Donna Harris, sister of Prime minister Dr Timothy Harris. Natta, according to reliable information, will be opposing Dr Harris in upcoming general elections.
A release issued by the Labour Party said:"Government Victimisation Agenda Continues; Suspected Labour Party #7 Representative Arrested!
The St. Kitts-Nevis Labour Party's steady 'creep-up' appears to have Prime Minister Dr Timothy Harris quaking in his shoes so much that he has upped his victimisation tactics on Opposition elements, both perceived and real. Just this morning, word was received that Leon Natta, a senior Customs Officer from Molineaux, was arrested by police.
Natta, who is touted in the public sphere as being the next Labour Party representative for constituency number seven, has been arrested on a warrant for having been late some time in the past to renew his firearm license.
The arrest warrant was signed by the Prime Minister Harris' sister, Magistrate Donna Harris, who appears to have been made a Magistrate in 2015, shortly after her brother was elected to public office, in order to be able to manipulate the Federation's judicial system to her brother's political advantage. Another one of Prime Minister Harris' sisters, Janine Harris, was given the position of Registrar around the same time in 2015," the SKNLP statement declared.
The release contends that "This is not the first time that Natta's mere presence has proven a thorn in Prime Minister Harris' side. In July of this year, following a posting on social media regarding the government's food voucher programme, Natta was summoned to the Chief Personnel Officer's office at Government Headquarters and cautioned for writing this on his personal social media page: "I am happy to announce that I am offering my assistance to all persons living in the villages between Belle Vue and Cayon to complete the application process that would allow them to qualify for the $500.00 per month payment announced by the Government of St. Kitts and Nevis.
Persons requiring assistance to complete the process must begin now to secure their salary slips, their job letters and other relevant documents. I am reachable by telephone contact, (869) 663-2951, for there is help available for the people in these tough economic times, I should be there to enable the people. All assistance will be free and confidential because I believe in people over politics."
There is only so much injustice a people are willing to take until they draw an irremovable line in the sand and the people of St. Kitts and Nevis are fast approaching that point. It is strongly suspected that at Dr Harris' behest, various government departments and organisations seem to have embarked on silent missions to unearth and where necessary, completely fabricate infractions and issues against certain Labour Party supporters. With this latest human rights violation, Dr Harris' coalition administration has driven yet another proverbial nail that will serve to further seal the coalition's political doom," ends the SKNLP release.