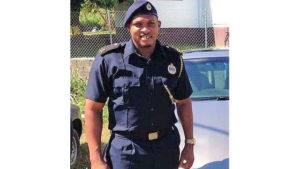 Leon Natta Nelson, the St. Kitts Nevis Labour Party candidate for Constituency 7 is criticizing Prime Minister Timothy Harris' comments dismissing the gravity and impact of a recent court case that paves the way for civil servants to engage in political activity and run for political office without losing their jobs.
Natta scored what he called a victory for public servants when he filed a motion challenging sections 36 and 38 of the Civil Service Act that prohibited government employees from engaging in political activities and contesting elections, and won. Justice Eddie Ventose last week declared those sections unconstitutional, null and void.
However following the decision, Prime Minister Harris had this to say about the matter while at a Team unity townhall meeting in Sandy Point:
"Wid de fella Natta they say they got a big victory! Natta win something! Natta could win anything in Number? That like a movie…they call it Stupidniss. When you hear them a say Natta win a case- stupidniss!"
Natta, who was charged for breaching those same sections, said the Prime Minister's response is a demonstration that he has no respect for civil servants or the judicial system.
"It was a massive victory in the court last week for civil servants where basically the court declared the regulations of the Code of Ethics Articles 36 and 38 are deemed to be null and void and unconstitutional. This has paved the way for civil servants to get what is rightfully theirs under the Constitution of St. Kitts and Nevis. It allows the civil servants to join in the political debate in this country to have a voice in the policies of the government. This is a massive victory but we have a long way to go; because the Prime Minister of this country has demonstrated that he has no respect for the people of this country, no respect for the high court and the decision of Judge Ventose, and more importantly no respect for the civil servants.
"Listen to the townhall meeting, listen to his comments- ah stupidness that. This is what is coming from our Prime Minister as he refers to a major court decision; imagine that.
"This is not the first time the government has lost a high court case; under Labour several cases were lost. Dr. Douglas did not behave like that, he accepted the court's decision and moved on. He didn't refer to them with those sentiments, bout stupidness.
"Look at what happened several weeks ago at the magistrate court court. At no time did he make any mention or use any colorful adjectives to describe what happened with his sister Donna Harris. He was mute; but all of a sudden stupidity of a landmark decision about civil servants.
"Is he saying that those persons working in the Prime Minister's Office as civil servants are stupid; is he saying Judge Ventose is stupid? Well maybe he needs to print that in the newspaper- PM Harris declares stupidity on Judge Ventose. And what ought to happen is that the Governor ought to tell him to apologize to Judge Ventose for making those type of remarks. He mentions responsibility, how responsible are you as the Prime Minister of this country to refer to a landmark decision like that as being stupid?"
The suspended Customs Officer is now challenging his suspension based on the court ruling. He said since Prime Minister Harris is of the view that the matter was "stupidness", why did the government pay a high priced senior counsel out of Trinidad to represent them in the matter.
"If this was a stupid case, then why was I charged in the first place? If this was a stupid case why you send for Douglas Mendes [SC] all the way in Trinidad? And since this was a stupid case, pay Douglas Mendes with stupid money, but pay my lawyer with good money."
Leon Natta Nelson speaking on Freedom FM's Issues program on Wednesday.