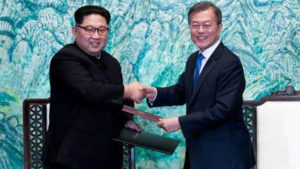 SEOUL, South Korea (AP) — North Korea cancelled a high-level meeting set for today with South Korea and threatened also to call off the historic summit planned next month with the United States due to ongoing military exercises between the South and the United States, South Korea's Yonhap News Agency reported.
The two Koreas were set to hold a meeting later today at a border truce village, to discuss setting up military and Red Cross talks aimed at reducing border tension and restarting reunions between families separated by the Korean War.
But Pyongyang cancelled the meeting and also questioned whether next month's talks between North Korean leader Kim Jong-Un and President Donald Trump would happen, Yonhap reported, citing North Korea's Korean Central News Agency (KCNA).
"The United States will also have to undertake careful deliberations about the fate of the planned North Korea-US summit in light of this provocative military ruckus jointly conducted with the South Korean authorities," KCNA reported.
The two-week military exercise between the US and South Korea started Friday and included about 100 warplanes, Yonhap said.
Yesterday, South Korea's military said North Korea was moving ahead with plans to close its nuclear test site next week, an assessment backed by US researchers who say satellite images show the North has begun dismantling facilities at the site.
The site's closure was set to come before Kim and Trump's summit, which had been shaping up to be a crucial moment in the global diplomatic push to resolve the nuclear stand-off with the North.