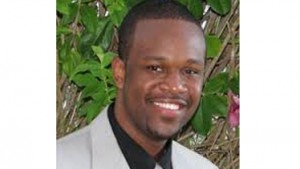 BASSETERRE, ST. KITTS – Parliamentary Representative for West Basseterre, Hon. Konris Maynard is describing as "laughable" the call by Leader of Government Business in the National Assembly Hon. Eugene Hamilton for opposition parliamentarians to stop criticising Speaker Hon. Michael Perkins outside of Parliament.
MP Maynard recalled that Hamilton when in opposition was one of the ring leaders who demonstrated daily with placards outside the National Bank Headquarters three years ago, calling on then Speaker of the lawmaking body, Mr. Curtis Martin to resign.
"Respect for me is like a mirror. You get the respect that you show and the Speaker has continually disrespected the parliamentary opposition members. We have tried on numerous occasions to draw to the attention of the Speaker and implored him not to go down the road of disrespecting us," said Maynard, who added that Speaker Perkins "is clearly aligned and biased towards the government side and he is not trying to hide it."
The first term MP also recalled present Prime Minister Dr. the Hon. Timothy Harris, also a ring leader at the daily demonstrations, publicly criticising and maligning then Speaker Martin.
"It is laughable for MP Hamilton to be quoting a rule that we should not show dissent to the Speaker outside of Parliament. We further recall when Speaker Martin was on his way to work at National Bank they hound him with placards and threats," said Maynard, who also recalled the Team Unity leadership leading its supporters behind Speaker Martin through Independence Square when he took his daughter to school.
"We also recall gunshots being fired at Speaker Martin's house all because of the rhetoric that was coming from the Team Unity opposition at the time," said Maynard.
"Where have Team Unity found this new morality? We have no confidence in Speaker Perkins and we are calling on Speaker Perkins to resign. We are calling on him to table the Motion of No Confidence that we have brought against him," said Maynard, who labelled the Speaker's dismissal of the Motion against him "dictatorial."