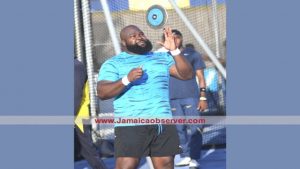 Jason Morgan, the national record holder in the men's discus, is hoping that his exclusion from the 59-member Jamaican track and field team to the Olympic Games in Rio next month was an oversight.
Morgan, who set the national record of 68.19m at a meeting in Pearl, Louisiana, in early June last year, which qualified him for both the 2015 IAAF World Championships, as well as the 2016 Olympic Games, was not named in the team announced yesterday.
"I don't see no reason for me not to be on the Jamaica Olympic team if I meet all the qualifications," he complained the Jamaica Observer in an interview minutes after the team was announced at a press conference at the Jamaica Pegasus hotel.
The 33-year-old Morgan, who has represented Jamaica at all age groups, won a bronze medal in the Commonwealth Games in 2014 and was part of the team to the Olympics four years ago in London, as well as three IAAF World Championships teams.The former Calabar High and Louisiana Tech standout has a season's best 63.11m, which ranks him fourth amongst Jamaican discus throwers, and 60th in the world.
He was also fourth at the recent Jamaica Athletics Administrative Associations (JAAA) National Senior Championships held at the National Stadium with a best throw of 59.08m behind Fedrick Dacres with 62.27m, Chad Wright with 61.83m, and Traves Smikle with 61.72m.
The results from the JAAA National Senior Championships mirrors the world rankings with Dacres leading with his personal best 68.02m, fourth best in the world so far; Wright has a season's best 64.45m, and Smikle threw 63.42m. Morgan's 63.11m season's best came at the Jim Mize meet at Louisiana Tech in March.
Morgan, who was unaware of his non-selection until he was contacted by the Observer, said he was still hoping he would be selected eventually. "Yes, I believe I will be named on (the team). I am a praying man.
I know God will deliver. I have been faithful and work too hard honestly for my spot on that team. The world sees it, that I have been determined and dedicated. I have love and respect for the JAAA and the Jamaica Olympic Association and this is my test for a testimony for this summer in Rio," he said.
The thrower, who had his best season last year when he led the rankings for most of the year before ending the year ranked number two, added. "I trust God will work it out for me to be on that team. I work too hard honestly and I have shown the world that.
"I am not worried. I believe they just overlooked my name. And there is no reason for me to not be on that team. I throw the standard and I compete at trials, I have thrown over 60m over three or four times this year already."
But Dr Warren Blake, president of the JAAA explained Morgan's omission, saying the athlete failed to replicate that 2015 form. "Jason's history is that he only throws the qualifying distance at one meet and he never repeats. He never even comes within the zone," said Dr Blake.
"He didn't come within the top three, so he has no automatic place on the team. He only throws the qualifying standard at a particular meet early in the season and he never repeats himself, so it was the view of the selection committee that he should not be chosen," he noted.
Dr Blake also revealed that there were doubts about the credibilty of the meet that Morgan achieved his qualifying standard.
"Yes, there are questions about it. He throws long distances at this meet every year; year in, year out and never comes close at any other meet. If you look at his history, this can be substantiated and he did not come within the top three, so he has no automatic claim to a place on the team," Dr Blake added.