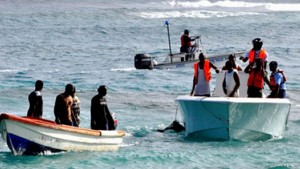 At least 22 people were killed when a boat capsized in rough waters over the weekend, Haitian officials have confirmed. They said the incident occurred on Saturday into Sunday when the small boat left Bombardopis for the northern city of Gonaives.
Head of the maritime and navigations service, Eric Prevost, said rescuers were able to save several passengers, but do not know how many people in total were on board the vessel.
The national maritime service is continuing the search for survivors and the recovery of bodies from the shipwreck area, The Haitian authorities also said that a young man swept away by rising waters in central Haiti, bringing to 22 the total number of people killed during the weekend's inclement weather.