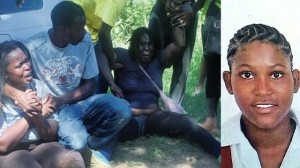 STEWART CASTLE, Trelawny — Blood-curdling screams reverberated throughout an isolated section of this community after a member of a search party discovered the body of a 13-year-old girl who went missing after leaving home for school on Monday morning.
The body of Aliesha Brown, affectionately called 'Miss Chin', was found clad in her maroon and white Muschett High School uniform, covered with a black motorcar bumper in bushes near the ruins of the Stewart Castle Great House.
The grade eight student, left her home in Refuge district in the parish, early Monday morning to be on time for the morning shift at her school in Wakefield about 14 miles away.
But she did not arrive. When the teen did not return home at the usual time, her mother became worried and made contact with the school but was told her daughter had been absent from classes for the day.
A large search party, consisting of relatives and members of the community, unsuccessfully scoured the bushy areas of the community late into Monday night.
Their fears intensified after the search throughout the entire Tuesday also ended in futility.
But, yesterday their worst fears were realised after they launched out of their community and headed for Stewart Castle, which is separated by the Duncans to Falmouth main road.
A member of the search party Anthony Loney said early yesterday afternoon after searching through the remains of an old great house, some of the searchers decided to rest, but he ventured further along the isolated road and was alerted by the buzzing of flies.
Upon closer inspection the body of the teenaged student, whose face appeared to be bashed in, was found partially covered by a car bumper.
"Ah from morning we a search, everybody come together and say them ago come a Stewart Castle to search. Five of us came here and searched the big house and we never find her so them say them a go rest and me say alright me a go walk and by the time me walk go over there I saw the black container and when I peeped over I saw a lot of flies so I had to run," Loney told the Jamaica Observer.
Shortly after, several mourning onlookers gathered along the dirt road in the rustic Stewart Castle community, near where the body was found.
Aliesha's distraught, weeping mother, Stacy Douglas, could not contain her grief and had to be consoled by relatives.
"Mek me go look! Me want see me pickney!" she wailed.
Other women fell to the ground and wept uncontrollably as several teary-eyed males tried to console them.
"What this world a come to?" an elderly woman who was a picture of grief questioned.
"Why would someone want to kill Miss Chin?"
Brown was described as a shy and polite girl "who did not give her mother any trouble".
"A no nuh pickney who come home late or give her mother trouble. Miss Chin is a good, good little girl. No problem with her. When me go up her mother go visit her me never hear her mother complain say she no dis or she dat or anything at all. A good girl me know her as," Tracey-Ann Eldemire told the Observer.
It was deja-vu for the Refuge community. Last year the decomposing body of 16-year-old Holland High grade 11 student Abigail Robb was found in a cane field, five days after she was abducted from her Refuge home by two gunmen.
Up to late last evening senior detectives who were early on the scene were still probing Brown's murder.
Meanwhile, the Ministry of Education has expressed shock and sadness at the tragic death of the teen.
The ministry, in a release issued yesterday, said the school's principal and guidance counselling team visited with the bereaved family to offer emotional support, and will extend this service to affected members of the Muschett High School family.
Commenting on the student's death, Minister of Education Ronald Thwaites said it was a "ghastly act" and called on members of the public to assist the police in bringing the perpetrators to justice.