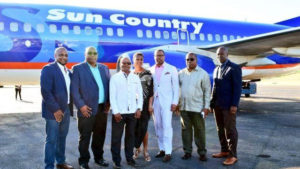 Minister of Tourism Lindsay Grant remains mum on reports that Sun Country Airline pulled out of St. Kitts since July, however Freedom FM has learned that the federal government discontinued paying a guarantee to the Minnesota based airline.
In July www.centreforaviation.com reported that Sun Country was to suspend its two seasonal services to St. Kitts.
There had been much pomp and ceremony when St. Kitts welcomed the inaugural Sun Country non-stop flight from Minneapolis in December 2018. The airline provided a weekly flight on Saturdays from December 22nd to April 20th.
In January 2019 Sun country announced a massive route expansion to include a non stop-flight to St. Kitts from Dallas, Texas effective in May.
The government of St. Kitts and Nevis had entered into a minimum revenue guarantee with the airline to provide the weekly service. MRGs involved making direct cash payments to airlines to guarantee a pre-determined profit margin.
Calls to Minister Grant for an explanation as to why the government terminated its guarantee with Sun Country have gone unanswered and unreturned.