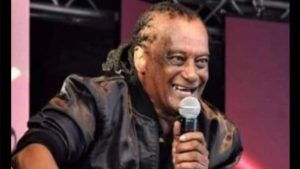 Today is indeed a very sad day as the legend Mick Stokes has transitioned. As we bid farewell to this extraordinary drummer, musician, and vocalist, and radio host, we celebrate the remarkable legacy he leaves behind.
Mick Stokes, also known as Micheal "Mick" Stokes-Heyliger, was undeniably one of the most gifted vocalists, songwriters, and performers ever to emerge from our beloved country. He was the rhythmic heartbeat of the renowned Ellie Matt and the GI's Brass, and later the GI's Brass International. Mick's unparalleled talent behind the drums elevated every performance, capturing the essence of the music and captivating audiences with his mesmerizing beats.
His timeless anthem, "LIAMUIGA," sung as a member of the GI's Brass International, stands as a testament to his deep love and admiration for St. Kitts. Through his music and hit songs such as Music in Jail, Play one More, One Shot Man, All Kinda Things, Mick beautifully captured the spirit and essence of St Kitts, reminding us of our rich heritage and the beauty of our land.
Mick Stokes was more than just a musician; he was an inspiration to countless aspiring artists and a pillar of our cultural identity. His passion, dedication, and unparalleled musicianship will continue to resonate within the hearts of all who were fortunate enough to witness his performances.
Freedom Fm extends sincere and deep condolences to his lifelong partner Pamela Nolan, his daughter Sweet Sister Sensia whom he inspired and passed on his love of music and being an entertainer extraordinaire. Also to his son Prime Minister Dr Terrance Drew and all the other family members and friends.
May his soul rest in eternal peace.