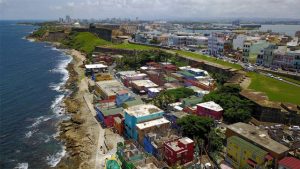 The US Department of Energy announced Thursday that it will disburse $440 million to install solar panels on low-income homes in Puerto Rico as the territory struggles with ongoing power outages and a crumbling electric grid.
Energy Secretary Jennifer Granholm, who is visiting Puerto Rico for the sixth time this year, said the department has selected a group of nonprofits and solar companies for the project, which will target up to 40,000 homes.
Eligible households would be located in impoverished communities that experience frequent power outages or have a person with a disability who depends on power, such as a dialysis patient.
Granholm said $400 million will be awarded to three solar companies and $40 million to five nonprofit organisations. The first installations are expected to start by early next year, according to the Department of Energy.
"Right now, Puerto Rico is number five in the country in terms of per capita solar installations. We want it to be number one," she said.
The announcement is the newest push to help Puerto Rico lessen its dependence on fossil fuels and a disintegrating electric grid neglected for decades before it was razed by Hurricane Maria in 2017 and battered by Hurricane Fiona last year. Both storms caused island-wide blackouts, and while emergency repairs were made to the electric grid at the time, reconstruction from Hurricane Maria only started earlier this year.
"I am impatient with the grid," Granholm said. "Half of your generation facilities are not working."
In December 2022, the US Congress approved $1 billion to help restore Puerto Rico's grid while the US government formed a task force charged with improving the grid's resilience and deployment of resources.
Earlier this year, the US government shipped three mega generators to supply emergency power generation amid ongoing outages.
Petroleum generates 97 per cent of electricity in Puerto Rico, with the governor pledging to obtain 40 per cent of power from renewable resources by 2025 and 60 per cent by 2040.