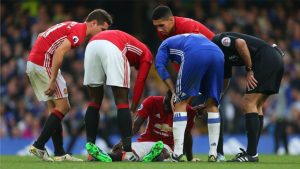 Manchester United got pasted 4-0 by Chelsea, and that wasn't even the worst news on the day. That's because Eric Bailly hurt his knee and is looking at a long spell on the sidelines.
Bailly had to come off for Marcos Rojo in the 52nd minute and Chelsea up 2-0, so it didn't change the match, but it will change many Manchester United matches to come.
"He is injured and I am afraid it is a bad injury," Mourinho said after the match. "It is in his knee ligament."
This year, United haven't been good at all. But Bailly's been one of the few bright spots in an alarmingly underperforming and disorganized team. He was the least heralded of Mourinho's four signings this summer, and he's far and away been the most important. Paul Pogba may be the most expensive signing ever and Zlatan Ibrahimovic may get the spotlight, but Bailly has been the man who most changed the team.
The Red Devils as a whole are a clumsily constructed, unwieldy conglomerate of Very Good Players, but they're not a Very Good Team. At all. But amongst it all, Bailly's quietly gone about his business, rescuing United over and over again.
In Bailly's absence, United will have to lean on one of Marcos Rojo, Daley Blind, or even Phil Jones if things get really rough. And, that's less than ideal, as last season showed.
It's hard to imagine United's day being any worse than simply the result against Chelsea. They were soundly beaten on the day — out-tactic'd (just go with it) outplayed, and overrun. The defense was shambolic from the start, Pogba again never managed to find his way into the game, and Ibrahimovic was largely absent from proceedings aside from spurning a couple presentable chances.
But those things can be fixed and they can turn it around. At least that was the thinking before United lost their best player. Now everything looks a whole lot tougher.