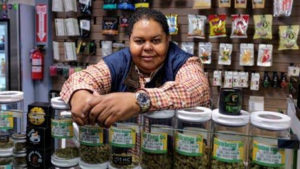 Los Angeles will kick off the process for licensing marijuana cultivators and manufacturers on August 1, but it's likely to be many months before any of those companies open their doors for business.
The announcement last week was greeted with a mix of anticipation and frustration by growers and other businesses awaiting licences that have watched the illicit market flourish.
California broadly legalised cannabis on January 1, but Los Angeles has moved cautiously with licensing. Growers and others seeking licences will have to go through a tiered review in which applicants must show they meet a range of legal requirements, as well as pass inspections.
About 150 retailers have opened in the city, but the rest of the supply chain has been on hold.
Donnie Anderson, a Los Angeles cultivator and dispensary owner, said he's been paying rent for months on commercial space he can't use without a licence, straining his budget.
He told the city Cannabis Regulation Commission "we don't want to wait too much longer".
The announcement was made by the city's top cannabis regulator, Cat Packer, who said rules continue to change as the city refines the new system.