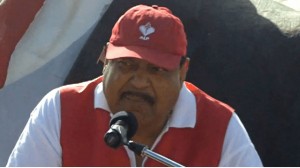 While the government has been cutting back on costs by making workers redundant, it has approved the hiring of five staff as personal assistants to former Prime Minister Lester Bird, now senior minister and advisor to the Antigua & Barbuda Labour Party administration (ABLP).
OBSERVER media is in possession of a Cabinet document, which shows that Cabinet approved the employment of two personal aides, two secretaries and one housekeeper to be in Bird's service.
Although the document is dated July 23, their employment took effect from June 23.
According to the document, the secretaries are been paid $2,954 per month and $500 in duty allowance monthly.
The housekeeper receives $2,000 and $500 for monthly transportation.
One personal aide is paid $3,500 monthly while another receives $3,000. Both are also paid $500 in duty allowance.
The total amounts to the five aides is $16, 908 monthly.
These emoluments are significantly more than former Prime Minister Baldwin Spencer received.