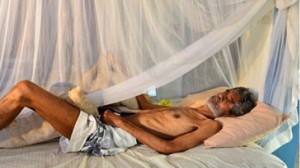 IN a study lit only by the final rays of the setting sun reaching like fingers through an open door, Dr Wayne Kublalsingh yesterday lay on a day bed, thinking.
A mosquito invasion in Kublalsingh's neighbourhood has led to a net over his bed, his frame so slight that it was barely visible within the gauzy covering.
Too weak to speak for long or move much, the room at his D'Abadie home where he has spent most of the last two weeks was littered with artefacts from his many adventures as a writer, activist, father, husband, brother and son.
Volumes of manifestos yet to be edited, illustrations by the activist and even a hard hat stamped "No Smelter", from his days leading Chatham to victory against the then Government's attempts to plunk down a series of aluminium plants in the semi-rural community.
Kublalsingh was yesterday described by relatives as "not doing well at all" as he neared dusk on day 47 of a hunger strike.
He continues to refuse medical assistance and is being looked after by his wife, Sylvia Moodie-Kublalsingh. With one member of the household recovering from dengue, all precautions are being taken to protect the vulnerable activist.
Kublalsingh has, since 2011, carried the ram's head for the Highway Re-Route Movement (HRM), a group opposed to Government's decision to build a segment of highway between Debe and Mon Desir.
The segment is a branch of the Solomon Hochoy Highway extension into Point Fortin, the latter of which the HRM favours. The Debe segment, they have claimed, will scatter long-standing communities and change the ecology of the Oropouche Lagoon.
Kublalsingh has stapled his life to this cause and as those close to him live at this moment in fear of his death, Prime Minister Kamla Persad-Bissessar said last week she has washed her hands of the issue, which is now to be handled by the relevant line ministers.
In spite of his physical weakness and door having been closed verbally by Persad-Bissessar, Kublalsingh said yesterday he remains hopeful that Government will agree to sit down with a third party mediator and work towards a resolution of the impasse.
"I still believe there will be mediation because of the pressure being put on the Government," Kublalsingh said.
He still also believes there is time for Persad-Bissessar to "rise like a golden fire" and burn out the possibility of an "economic crime" being committed through the building of the Debe to Mon Desir segment.
In yesterday's brief interview, Kublalsingh said he fully intends to "live on" and is in no way disappointed with the course his protest has taken.
Nor is he afraid as he feels his body give way.
Nevertheless, Kublalsingh admitted he was too weak to talk or entertain though he thanked all those who have kept the protest alive.
"I just want to fold up and close my eyes and retire into my own thoughts," Kublalsingh said.
"I intend to live on but I feel very weak and I want to conserve the coil of energy I have and keep it close for now."
Kublalsingh said he did not want to attempt any activities beyond the physical reserves available to him at this time, as he did not want to collapse and return to the hospital.
"I hate hospitals and drips," Kublalsingh said, referring to his collapse and hospitalisation three weeks ago.
The activist had started his second hunger strike on the issue, by sitting for part of the day during the week at an HRM camp outside the Office of the Prime Minister.
He was forced to take leave of the public's eye two weeks ago, when he became too weak to stay at the camp.
In the past fortnight, he has upped efforts to produce a record of his experience, which he said now lies in a manuscript and hours of voice recordings.
"I feel that the message will be clear if something happens to me," Kublalsingh said.
But as the Express news team prepared to leave, Kublalsingh managed a smile and said softly, "It will be all right". (Trinidad Express)