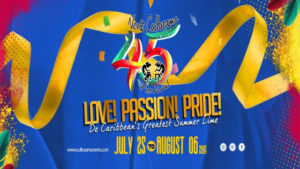 Kore band has made a clean sweep of the Culturama 45 Road March, their band members Delly Ranks and Speedy taking both the winning and runner up spots respectively.
Culturama Committee Chairman Antonio Abonaty Liburd made the announcement on Wednesday afternoon. The judging for Road March was done over Monday's Emancipation J'ouvert and Tuesday's street activities.
The Chairman also revealed the winners and runners up in the other street activities for Culturama 45 which culminated on Tuesday.
The Cultural Street Parade had four judged categories:
Fantasy
Winner ($7000) – Royal Rampage
1st runner up ($5000)- Love, Passion Pride
2nd runner up ($2500)- Festival Love
Float
Winner ($3500)- Agriculture in Fine Style
1st runner up ($2000)- Festival Pride
2nd runner up ($1000)- Four Seasons Revelers
Folklore
Winner ($3500) – Cottonground Masquerades
1st runner up ($2000)- David's Dynasty
Ole Mass
Winner- Nelson Jeffers
1st runner up- On The Spot
2nd runner up- Bazard Boys
Junior Cultural Street Parade
Winner- Country settings come to Town
1st runner up- Badaye- Royal Highness